Stassi Schroeder Admits She Quit Popping Pills After Nasty Argument With Boyfriend Beau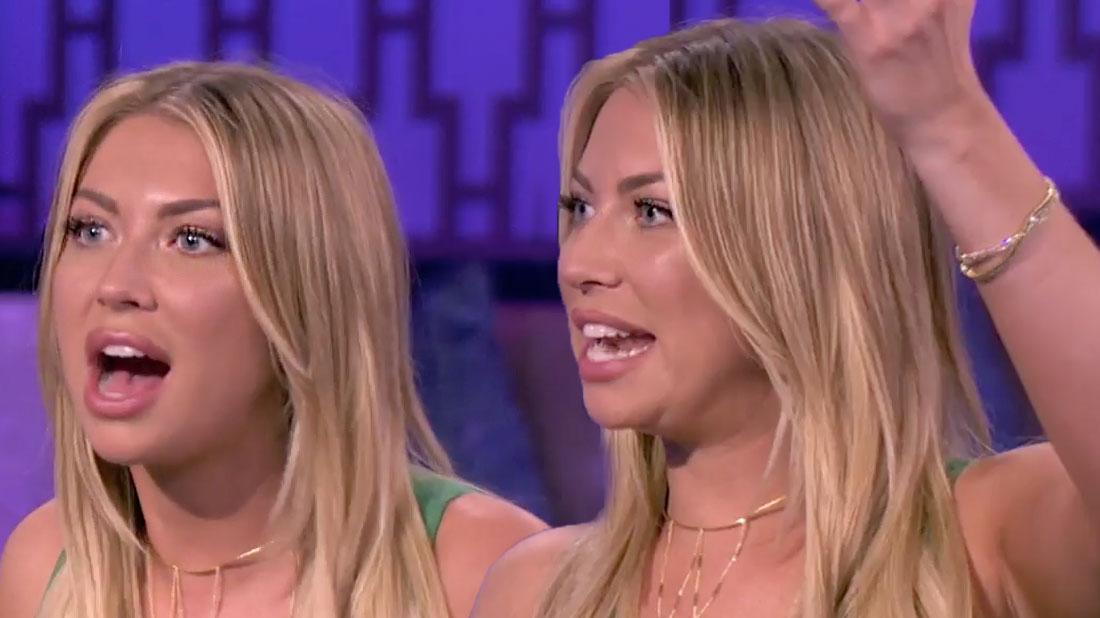 Stassi Schroeder dropped a major bombshell on the Vanderpump Rules reunion part three, confessing that she had quit Adderall following an unfortunate event.
Speaking of her hard-partying persona, which they all refer to as the "dark passenger," Stassi's boyfriend, Beau Clark, explained what made her "go crazy," to host Andy Cohen.
"I think with Adderall, alcohol, her exes," he described as her triggers.
Article continues below advertisement
Detailing their fight in Mexico when she didn't want to dance on the bar with the rest of the girls — because she had on "oatmeal colored Spanx" that she didn't want people to see — Beau said he felt like "a battered boyfriend."
"It was just over and over and over again the dark passenger would come out," he said. "I think it's old stuff and her insecurities combined together with alcohol that just comes out, and she just needs to trust in herself and trust in us. But I don't think it's some deep thing that it's her persona. It's not Stassi."
"What's scarier, the dark passenger or Tequila Katie?" Andy asked, and Tom Schwartz threw his volatile wife, Katie Maloney, under the bus.
"Tequila Katie for sure," he said.
Andy asked Stassi if she felt like she was going to lose Beau.
"I want to figure out what it is that's making me like this," she told him. "And I hurt my friends, I hurt him, I hurt myself, and that was a moment where I was like — and I didn't want to like full-on come out and say this, but I'm not gonna take Adderall again. Like, I'm not gonna do that."
Article continues below advertisement
"So, would you say you've stopped taken it or are you taking it less?" he asked.
"No, I've stopped taking it," Stassi insisted.
"I was like, done," Beau explained, and Andy asked if her behavior had changed and they both said: "Yes."
Stassi explained her problem with her mother, who once said Beau was too good for her daughter.
"We didn't speak for like eight months," she told Andy. "And it was only until this past weekend that I went to my sister's bridal shower. We finally talked, and she apologized for everything and took responsibility and ownership for everything, and we both cried, and it was awesome, and I'm really happy about it because I've really missed my mom. So that was really, really nice."
The rest of the cast rehashed problems from the other two reunion episodes.
Kristen Doute continued to attack ex James Kennedy.
Kristen said it really did trigger her to know James was DJing a party a SUR, and he ripped into her.
"You gotta get over it. I'm not in your life anymore. Get the f**k over it. She is obsessed with me. Get over me. Get over James Kennedy," he said.
Stassi had a different opinion, telling Kristen that she was really made at her boyfriend Brian Carter.
Article continues below advertisement
Kristen explained why they were broken up.
"He didn't respect me enough to pay his way and that was a big deal to me."
But she said that she could no longer turn to Stassi and Katie for support because they weren't on her side.
She then confessed that she and Carter were still living together.
"Our dog got mauled by a pit bull. I felt like our kid almost got killed," she said, and told Stassi and Katie that their "f**king tough love doesn't work for me. I sit at home alone and f**king cry and I'm afraid to call you."
Lala Kent said that her anxiety attacks were "driven by alcohol."
"I wanted to crawl out of my own skin. I started thinking about I'm not near fiance Randall, my mom is far away, my dad is gone. What the f**k is this life," she asked.
Lala has since quit drinking entirely, and even joined a recovery program.
Scheana Marie said that she was jealous when Lala made out with Ariana in Mexico, and Lala assured her that they are still best friends.
Article continues below advertisement
Scheana also said that she gave Adam Spott the penguin sponsor gift, and he loved it so much that he finally performed oral sex on her.
Andy called out Katie for "d**k shaming" her husband, and Jax Taylor admitted that the way he acted toward fiancee Brittany Cartwright's dad was wrong.
Lisa Vanderpump ended the show by saying she believes Brittany will be the first person in the group to have a baby!
Keep reading RadarOnline.com for the latest Vanderpump Rules news long past the season's end.