VPR's Stassi Visits 'Oracle' To Deal With Her Angry Spirits: 'I've Been Demonic!'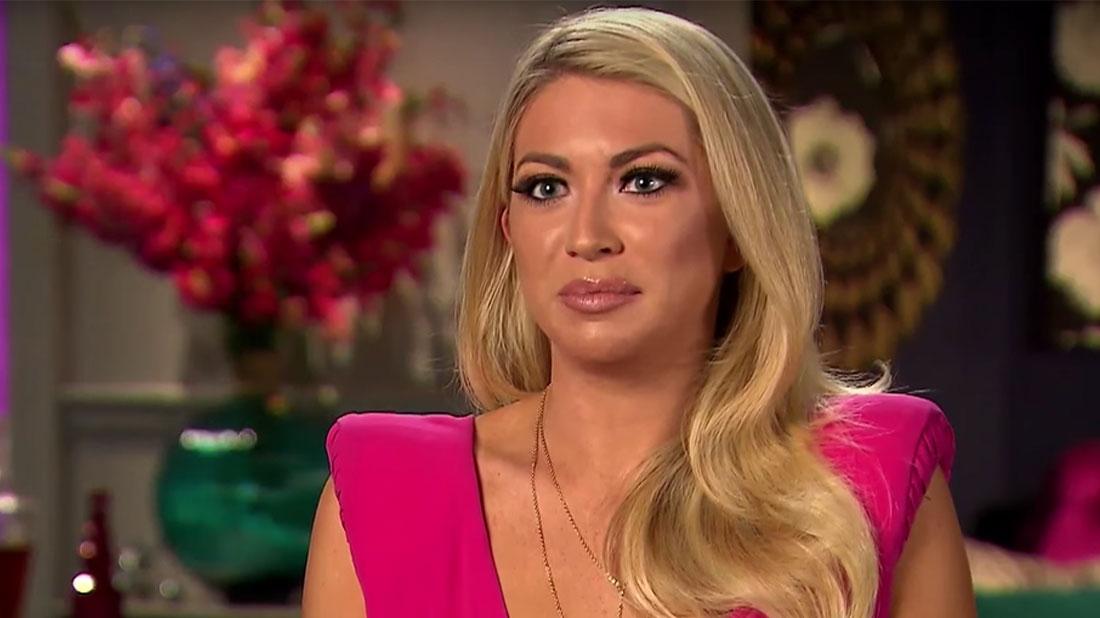 Blame it all on the alcohol but call in an oracle.
On the April 15 episode of Vanderpump Rules, LaLa Kent and Stassi Schroeder both admitted they were having issues, but only one of them went to an "oracle" for an exorcism.
Kent broke down and confessed to Scheana Marie that she was struggling with her father's death and realized that she needed to stop drinking. "I feel like a psycho person," she said. "I feel like such an asshole."
Article continues below advertisement
"It brings out demons I already have," she said about booze. "For the first time in my life I genuinely don't know what to do. I don't know what the f**k it is."
Schroeder was in the same situation.
Katie Maloney confronted her about the drunken fight she had with her boyfriend, Beau Clark, in Mexico.
"She's self-sabotaging," Maloney said in her confessional. "She's like 'Finally I have a great guy who loves me and treats me right so let me f**k it up.' She doesn't think she deserves it."
Maloney voiced her fear that Schroeder'a wild actions would eventually destroy her romance with Clark.
"Stassi has the most beautiful soul but if she does not stop lashing out she's going to lose the love of her life," said Maloney. "Even with us, at the end of the day these are your issues, you've gotta get your sh*t right."
Maloney and Schroeder decided to go to an "Oracle" named Amanda Yates Garcia to help Schroeder fix her problem.
Article continues below advertisement
"There's a lot of love," Garcia told Schroeder after saging her outside her house.
Garcia also had a black cat.
"That demonic spirit is coming to visit you, possessing you while you do these angry outbursts," Garcia told Schroeder, who had a breakthrough, blaming her problems on a demon and not alcohol.
"Holy sh*t I haven't just be3n angry, I've been demonic," Schroeder realized.
"Think about the times you lashed out at him. Say out loud what it feels like," Garcia told her.
"It just feels really hot. And dark. Like almost if there was a heavy cloud," Schroeder confessed.
"Can you tell the spirit how it makes you feel?" Garcia encouraged her.
"It makes me feel angry," said the star.
"Tell the spirit what you want," Garcia instructed her.
"I want it to leave," Schroeder said, and Garcia chanted to get rid of the demon.
"I'm feeling so many different emotions," Schroeder said in her confessional. "I'm feeling hopeful and helpless at the same time. I'm feeling like this is one of the most emotionally draining experiences of my whole life."
Article continues below advertisement
"Open your eyes, come back into space. This is a turning point for you. Become a beautiful bad a** version of yourself," Garcia told her.
"Admitting that you have demons is the first part of trying to be better," Schroeder said in her confessional.
In other cast storylines, Maloney quit Girls Night Out because she wanted to "take a break."
Tom Schwartz brought Lisa Vanderpump $50,000 in cash to make up for his bounced check for TomTom.
Article continues below advertisement
"I have a lot of work to do on myself. I'm on the right path. I'm doing it myself," Jax told the therapist but Cartwright was still unsure about him.
"I know he has changed so much. I do trust him but there is still a little bit of me that doesn't trust him. I catch myself if he's an hour later than he is supposed to be. I shouldn't have to do that," she said.
A dumfounded Taylor replied: "This is the first I'm hearing about this. To be honest."
"Since we're going to get married and stuff, I don't want to have those what ifs," said Cartwright. "Every now and then I still see glimpses of his old behavior. Talking over me or not being respectful. I think that is the only thing that scares me now."
But Taylor said he thinks his cheating on her "made her stronger. She doesn't get bullied around anymore. I'm not saying oh my gosh you should go out there to cheat on your girlfriend to make your girlfriend stronger," he said. "But it made Brittany stronger."