Exclusive
Serial Killer Ted Bundy's Sick, Twisted Prison Letters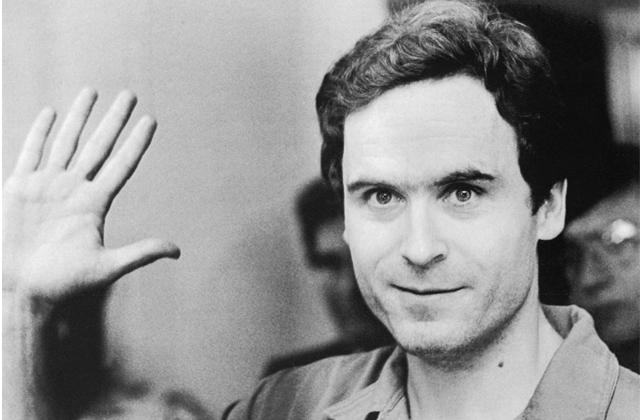 Bombshell lost letters penned on Death Row by blood-thirsty serial killer Ted Bundy — that expose his twisted and kinky dark side — have been found, and RadarOnline has them!
Now, a top mental health expert says Bundy's shocking writings to now-deceased pen pal Thomas Grant reveal he was a twisted monster, remorseless murderer and slick conman, who would say anything to trick people into thinking he was a kind, caring guy.
Article continues below advertisement
Therapist Dr. Gilda Carle says the letters reveal Bundy "is a sociopathic monster" determined to "sound attractive to a person he wants to keep engaged as a pen pal."
The 42-year-old fiend died in the electric chair at Florida's Raiford Prison on Jan. 24, 1989. He was convicted for murdering two Florida State University coeds and a 12-year-old girl who he kidnapped from her junior high school.
Horribly, before he was fried, the smooth-talking monster confessed to raping and killing at least 30 young women and girls. But many experts estimate the number of victims he slaughtered could be as high as 100.
Article continues below advertisement
In the earliest letter dated Sept. 27, 1986, the fiendish killer, who chopped the heads off 12 of his victims, portrays himself as a religious family man.
"God has never left me," he writes. "All things pass, only God's love remains."
He complains "my wife Carole and our daughter, Rosa," then 5, who had been living near the prison, had to move back to Seattle, Wash.
He claimed his wife was caring for her mother who had been hurt in an auto accident.
"It's been difficult not being able to see them," Bundy whines.
Then he talks about his new interest — warning people about the dangers of radon gas, a radioactive substance that poisons homes and buildings and can cause lung cancer.
"I've undertaken writing a book," he says.
He claims he's also interested in "sailing, organic gardening, solar energy, home education for kids and environmental issues generally and water quality in particular."
Article continues below advertisement
In a Nov. 16, 1986, letter, he tries to charm Grant into believing he's interested in him!
"I found the brochure you sent me about yourself and your band very interesting. You've had quite a varied and full life," the killer writes. "Your picture reminds me of my cousin John Cowell."
"How's your health? Much better, I hope. You're in my prayers."
The third letter on Nov. 22, 1987, is brief, wishing Grant "the best this Christmas and New Year" and apologizing for "not writing" and "losing touch."
Dr. Carle says the letters reveal Bundy is literate, educated and "a clear sociopath," who "completely disassociates himself from the horrendous actions he's made in the past and focuses on the 'good things' he's doing now. He talks about his family in a loving way, even though he's left a trail of 30 dead women in his past.
"His sudden belief in God is very convenient for most people who have been sentenced to death."
"These characters feel they have been cleared of their past behaviors and things are all better because they have suddenly become so religious."
We pay for juicy info! Do you have a story for RadarOnline.com? Email us at tips@radaronline.com, or call us at (866) ON-RADAR (667-2327) any time, day or night.