Marilyn Monroe Branded A Communist After 'Cover-Up' Marriage To Lefty Arthur Miller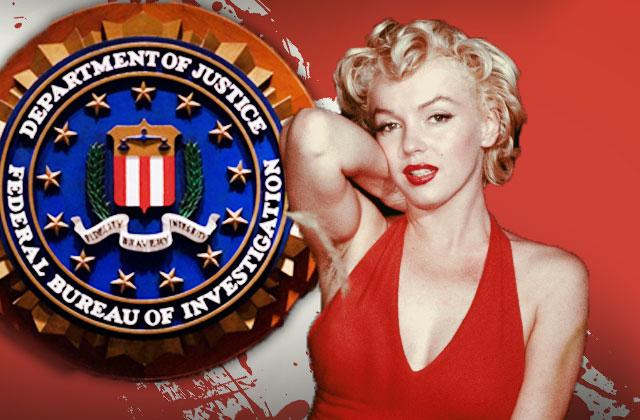 After an exhaustive FBI investigation, it was discovered that Marilyn Monroe was a Soviet agent who secretly funneled her Hollywood millions to the Communist Party and married playwright Arthur Miller to "cover up" their joint anti-American activities!
These are just two of the incredible claims, RadarOnline.com can exclusively reveal about the late blonde bombshell and her sketchy past. While she was still alive, Hollywood whistleblowers insisted the movie star was infatuated with the "red menace" and was a potential threat to the United States.
Article continues below advertisement
In the climate of fear and paranoia in the United States during the McCarthy witch hunt period in the 1950s, such information, had it been made public, could have ruined Monroe's career, whether it was true or not.
Still, everyone was turning into an informant, in order to save their own skins!
A document in Monroe's top-secret files, which was opened after she requested a visa to visit Moscow, describes how a New York Daily News reporter contacted the FBI with information from an anonymous caller who claimed Marilyn had "drifted into the Communist orbit."
The caller accused Miller – the actress' husband from 1956 to 1961 – of being a "cultural front-man for the Communist Party." The caller also insisted money from the famed actress' movie company was being laundered and turned into cash-for-Communists.
The tip, received on July 11, 1956, was duly noted in Monroe's FBI folder with the agent reporting: "money from Marilyn Monroe Productions was finding its way into the Communist Party" and that the company was "filled with communists."
Article continues below advertisement
Any probe into Monroe's finances was not mentioned in the FBI papers but agents assigned to the case were left with little doubt about the star's political preferences.
According to the files, her views were "very positively and concisely leftist."
Meanwhile, Monroe was already on the FBI's RadarOnline.com even before she married Death of a Salesman writer Miller, who was a Broadway hero and liberal icon. They had met on the set of Bus Stop and married about a year-and-a-half after she divorced Joe DiMaggio, who was also a secret FBI target.
During their courtship, Miller was hauled before the House Un-American Activities Committee to explain his alleged Communist affiliations. While he vehemently denied the claims, he also refused to point out any other suspects. He was eventually convicted for contempt of Congress, fined $500 and had his passport revoked.
Nervous studio executives urged Monroe to dump the writer to save her career. She refused, calling them "born cowards" and publicly – and repeatedly – defended Miller while attacking Washington's witch-hunt mentality.
Article continues below advertisement
She was triumphant when the courts ruled Miller had been framed. However. FBI informants kept seeing "Reds" under – and in – Monroe's bed. There were rumors that the Hollywood hottie was in contact with the KGB and even had a fling with a Soviet spy!
After Monroe's heavily censored government files were released, an ex-KGB agent even produced a "documentary" revealing the actress secretly visited Moscow for two weeks in 1960 during a spat with Miller.
While in the Soviet capital, according to the film, Monroe hooked up with Russian spy Vladislav Egorov. The movie also claimed that Egorov even recruited her during a 1959 reception at the Soviet Embassy in Washington and eventually became her lover.
Still, there is absolutely no proof of the shocking claim. Monroe's heart beat true for the red, white and blue –even if her interior decorator Eunice Churchill is quoted in the FBI files dishing the dirt!
Article continues below advertisement
Look into the secret files of the most feared newsroom in America — as The National ENQUIRER exposes the real story behind Hollywood's wildest scandals and sensational crimes, in National Enquirer Investigates! The first episode of this shocking new series delves into the troubling death of screen goddess Marilyn Monroe. Was her "suicide" really a murder? Premieres Sat. May 28 9 ET/PT on REELZ Channel.