Marilyn Monroe Death: 'National Enquirer Investigates' Reveals New Bombshells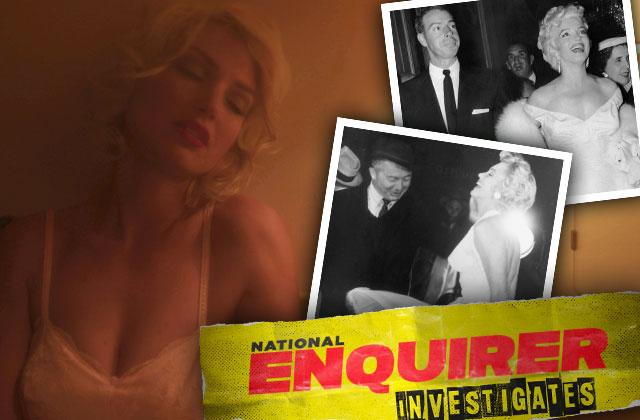 America's most notorious celebrity scandals are about to be ripped wide open! National Enquirer Investigates documentary series will premiere May 28 on the REELZ Channel, with exclusive episodes about celebrity deaths and controversies from the "secret files" of America's most famous newspaper.
The unscripted series will focus on well-known scandals, revealing explosive new details from the notorious cases that have never before been reported.
Article continues below advertisement
The first episode takes a look into the truth behind Who Killed Marilyn Monroe? Famous for her bombshell looks and linked to everyone from a baseball star to the President, her shocking death was officially listed as a "probable suicide."
But National Enquirer Investigates exposes new evidence that could show her death was the result of a murder plot and delves into the dark past to determine who could have been behind Monroe's early demise.
Produced by Jupiter Entertainment in partnership with American Media Inc. and Weinstein Television, the series will also feature episodes on O.J. Simpson, Charlie Sheen, Natalie Wood, Elvis Presley and Whitney Houston and daughter Bobbi Kristina Brown, among others.
The Reelz show will provide viewers with a story from "a fresh perspective and subjected to new scrutiny in search of the final revelation," a press release promises.
Look into the secret files of the most feared newsroom in America — as The National ENQUIRER exposes the real story behind Hollywood's wildest scandals and sensational crimes, in National Enquirer Investigates! The first episode of this shocking new series delves into the troubling death of screen goddess Marilyn Monroe. Was her "suicide" really a murder? Premieres Sat. May 28 9 ET/PT on REELZ Channel.