Tough Love? Sonja Morgan Receives Harsh Criticism From Bethenny Frankel & Clashes With Ramona Singer Amid Financial Troubles On 'RHONY'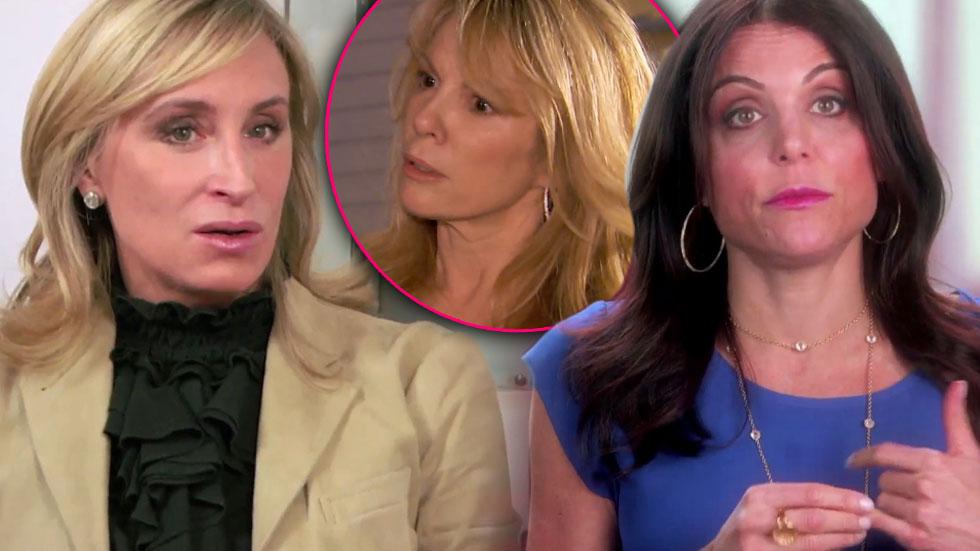 It was Bethenny Frankel to the rescue on the Real Housewives of New York, as she attempted to take Sonja Morgan under her wing by helping her launch her new clothing line.
But once Frankel found out how disorganized the project was, she was the one who needed saving!
Morgan opened up to Frankel about her legal troubles while out to lunch.
"I was a movie producer and I was sued," she explained. "They secured a $7 million judgment against me and I have to pay every dollar of it. There is a legal fee that goes into that because I filed a Chapter 11 to protect my assets."
Article continues below advertisement
When Morgan explained that she sold her house in France, and was encouraged to sell her New York home, because "when you're in a Chapter 11, everyone is waiting to take everything you have," Frankel decided to give her friend career advice to help get her finances back on track -- but the feat was easier said than done!
"International fashion lifestyle brands," Morgan said of her latest projects. "So jewelry, perfume … it's luxury, but not the most expensive."
Frankel said in her confessional, "What the f*ck are you talking about?"
She then advised the housewife to focus on one product and make it great, just like her Skinnygirl cocktail line.
Morgan went right to work, as she invited Frankel to check out her Spring/Summer 2015 clothing line.
"I think Sonja invited me because she has alienated the rest of these women," Frankel said of her co-stars, who have constantly doubted Morgan's projects. "She wants someone to say, 'the emperor actually has some clothes.'"
Article continues below advertisement
While Frankel was impressed by the designs, she was shocked at how soon Morgan's team was planning to launch the line.
"Launching this spring is aggressive -- what store are you launching it in?" Frankel asked, as Morgan's CEO of the line responded, "We cannot disclose right now because we are still in negotiations."
Frankel quipped in her confessional, "Are we in the mafia? You can't tell me any of the stores that you're selling it to. You can't tell me where you're really manufacturing this stuff. What are we doing?"
As Morgan's team got defensive over Frankel's claims that the line would not be ready in time, Frankel reminded them of Morgan's failed toaster that "never toasted anything."
"I put my screenplay and my movies on hold because of the lawsuit and I said if people want to talk toasters I'll stop talking about my sexy novel," Morgan explained. "I was working with Marc Jacobs, I won that award."
A confused Bethenny said in her confessional, "I forgot that I took a hit of acid before I came into this meeting, which explains all of this. Sonja has sexy novels, fashion awards and yet we don't have clothes, we don't have distribution and we don't have buyers."
Article continues below advertisement
Watch the video on RadarOnline.com
After the clothing chaos, the ladies headed to Dorinda Medley's cocktail party where Heather Thomson and LuAnn de Lesseps ambushed Morgan for not inviting them to check out the samples. But the clashes didn't end there, as Ramona Singer accused her friend of ignoring her the entire evening!
"You walked in and you completely dissed me," Singer complained. "You didn't say hello and for an hour and a half you didn't acknowledge my presence. Is there any reason? My feelings were hurt."
Singer said​ in an attempt to calm her friend down, "Just say, 'I'm sorry your feelings are hurt' and it's over."
"The last person I wanted to hurt was you," Morgan confessed. "The person I most want to protect is you."
The Real Housewives of New York airs Tuesdays at 9/8c on Bravo.