Exclusive
Sonja Morgan Talks Upcoming Season Of 'RHONY' & Bethenny Frankel's Return: 'We Needed A Little Jolt In There!'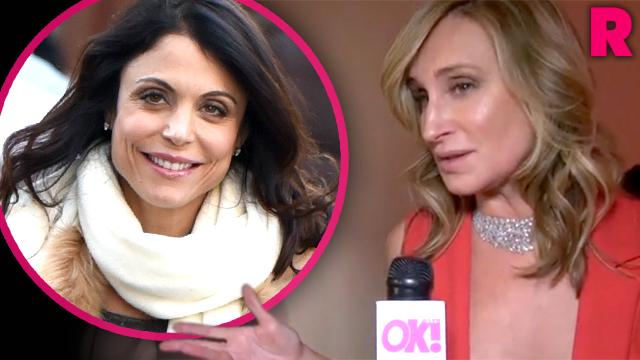 Sonja Morgan's relationship with her Real Housewives of New York costars has been tumultuous in the past, but viewers can expect "strong relationships" between the women when Season Seven returns, according to the blonde fan fave. Morgan exclusively opened up to RadarOnline.com about everything from Bethenny Frankel's return to her New York Fashion Week collection in an exclusive video interview.
"We really have strong relationships going now with the other half of the cast that joined the old veterans," the Bravo star said at the launch of her Summer 2015 capsule collection and jewelry line.
Article continues below advertisement
She said in regard to the "misunderstandings" with de Lesseps, "We're cool. I know we'll always be friends. No man can come between us!"
Currently dating 24-year-old model Dominik Persy, Morgan explained that she doesn't have to help the newly single Singer, who recently filed for divorce from her husband Mario Singer after he was busted cheating, snag a young model of her own!
"I think the men will find Ramona just fine," she said. "That's the problem: we have to beat these guys off! They're everywhere! Which guy is the good guy?"'
Article continues below advertisement
When Morgan isn't filming or spending time with her German boyfriend, she's working on her Sonja Morgan New York brands, which include a Summer 2015 capsule collection that features ready-to-wear, sportswear, evening wear and swimwear, and a jewelry line.
"I've been wearing fine jewelry for quite a long time," she said of the jewelry collection. "I like good quality and I like the jewelry to represent me, my personality, which is good value and to have long lasting value that stays with you. And I like to think of it as heritage pieces even though they're affordable. We make it so if you do buy it, you could have it forever, but it doesn't cost an arm and a leg."
Watch the video from her New York Fashion Week event:
​