'You're Not A Friend!' LuAnn De Lesseps Tells Sonja Morgan As The Drama Continues To Unfold On 'RHONYC' During Montana Getaway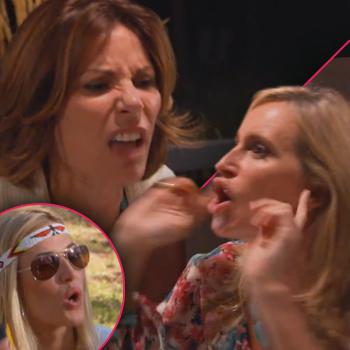 Cabin fever set in on Tuesday night's episode of The Real Housewives of New York City, as tension and boredom continued to rise among the Gotham gals during their vacation in Missoula, Montana.
"The girls cancelled our reservation tonight. We're not going out. We're staying in cabin fever zone right here," Sonja Morgan told Carole Radziwill. "Don't you want to go out on the town? See some live people? I had a squirrel try to get in my room last night. I almost made out with him!"
Article continues below advertisement
After a day of unsuccessful fly-fishing, Kristen Taekman promised Ramona Singer and Sonja that their night in would be more fun than going out on the quiet town.
If only Kristen knew what would happen between LuAnn De Lesseps and Sonja, maybe she would have opted for a boring night out rather than a drama-packed evening in!
"Sonja seems to have a stick up her a**. Oh, correction, I think it's the whole tree," LuAnn quips after Sonja made a comment about the Countess and Kristen's Connecticut hometown.
On last week's episode, LuAnn fought with Sonja over comments made by Sonja's facialist regarding LuAnn's relationships with short French guys.
"What are you so fed up about? She's lovely!" Sonja asked when LuAnn told her not to talk about her facialist.
LuAnn began to yell, "Sonja, she implied to you that I was running around and that you were running around. I will never be cool with it. Why wouldn't you say, you know what you're full of sh*t lady!"
Article continues below advertisement
Sonja retorted, "I was just with the facialist to find out what the rumors were! I didn't cut her off because Kristen and I were having fun with our facialist to hear what people were saying."
"You know I love Jacques. Why didn't you say to this woman, 'You know what? That's not true. LuAnn's my friend and don't talk sh*t about my friend!' You're not a friend! I'm sorry, you're not a friend!"
Watch the video on Radar Online:
While Kristen took Sonja's side of the argument, claiming that the comments were funny, Heather Thomson stood up for LuAnn.
"You're really not nice to LuAnn. I don't know if you notice that or not," Heather told an apathetic Sonja.
"You lie down with pigs, you're a pig!" Sonja fired back.
"Did you just call LuAnn a pig?" A shocked Heather asked.
In an effort to salvage the remainder of the trip, Kristen decided to separate the ladies by bringing LuAnn and Carole hiking, while the other socialites enjoyed an outdoor spa.
Article continues below advertisement
As LuAnn commented on her argument with Sonja from the night before, Kristen brought up that maybe Sonja is embarrassed by her bankruptcy, divorce and legal issues.
"It's not that we're not close," but "very good friends," Sonja told Heather and Ramona. "If I need LuAnn and I call her she's there… LuAnn has the perfect life.
"She has her alimony paid, she has her house in the Hamptons … she has no legal issues."
Off to their next activity, the girls try to decide between skeet and trap shooting or repelling off the side of a mountain.
"We're half way through the trip and I'm trying to keep the peace with Sonja so I'm thinking hanging off the side of a cliff is much better than being around Sonja with guns," LuAnn laughed.
LuAnn and Sonja weren't the only Park Avenue princesses to pack the drama: During repelling, Kristen explained that she felt she must succeed in this activity in order to compete with the more athletic Heather.
Article continues below advertisement
The ladies are pushed to their limits when they go geocashing, which is a treasure hunt using a GPS.
"Heather is definitely being a bit bi***y," Kristen complained. "When she decided that she wasn't into it anymore she just completely checked out. But it's like for the first time ever I want to do something. Follow my lead one time!"
Kristen felt antagonized by a drunk Heather as she continued to bring up Kristen's tear-filled repel down the mountain.
"Why are you like the super-finder, who cares?" Heather said when Kristen became frustrated over her inability to find the treasure. She then began to mock Kristen's cries from their repelling session.
"You're mean and you know what else you are? You're bossy! That's what you are," Kristen yelled to Heather.
"If you want me to be bossy I'll be like get your fu****g a** out of the woods and let's stop trying to find things that no one else cares about," Heather screamed back.
Article continues below advertisement
"Maybe when Kristen was repelling, she felt like she was out of control and when she was geocashing she was in control. That balance made her feel good and the fact that Heather didn't want to participate with her made her angry," Carole commented.
Watch the video here on Radar Online:
Meanwhile, Sonja made most of the hookup-free vacation.
As the ranch hand took out the trash in her cabin, Sonja commented, "Nice butt."
"I don't have my underwear on so I don't need you to go back there, stay where you are," the always-commando housewife said to the uncomfortable ranch hand.
While skeet and trap shooting, Sonja asked the resort guide Paul about his love life, "I don't know what it is about this cowboy Paul, but he is hotter than Montana in August."
Tune in next Tuesday at 9/8c to watch the drama continue to unfold on the Real Housewives of New York City!