Carole Radziwill Says Sonja Morgan's Type Is Anyone 'With A P*nis' As 'RHONY' Socialites Travel To Montana In Drama-Packed Episode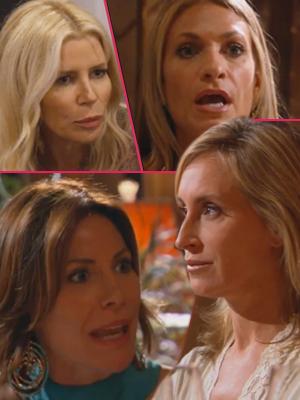 On this week's episode of The Real Housewives of New York City, Kristen Taekman plans a "glamorous" vacation for the ladies. But instead of sipping cocktails (and starting drama!) in the Hamptons, the housewives are spending five days in the horse-riding, cowboy hat-sporting city of Missoula, Montana.
"I think I'd be great for all of us ladies to take ourselves out of our comfort zones and go to a really great place," Kristen said. "So instead of going to the Hamptons for Labor Day weekend, I persuaded the girls to go to an upscale ranch in Montana."
Article continues below advertisement
And how are the ladies responding to the spa-free vacation?
"There is nothing to do! I mean there is going to be no Pinot Grigio … no dancing, it's going to be boring at night! Boring!" Ramona Singer complained to Aviva Drescher during a dip in the pool.
Fortunately for Avivia, the high altitude and horses were just too much for her asthma to handle, forcing her to miss the trip.
Never knew Avivia had asthma? Neither did the ladies.
"She's never had it before and all of a sudden I invite her to Montana and she's allergic to horses?" Kristen told Ramona as they shopped for cowboy gear and sexy chaps.
To prove that she really did have asthma, Aviva showed Kristen a doctor's note. Kristen questioned the note – believing that it's too much of a coincidence – and claims that a friend wrote it for her.
"I can't f*cking breath ladies, accept it!" Aviva screamed before opening her bag and throwing pill bottles at Kristen. Aviva even pulled out an inhaler and begins to use it.
Article continues below advertisement
"Aviva literally opened up her bag of crazy, and then she threw it at Kristen. Even I was shocked," Ramona told the camera.
Watch the video right here on Radaronline.com
Although Aviva was "forced" to sit this one out, she made sure the ladies didn't forget about her. When they landed at the airport in Missoula, the wheelchair Aviva ordered before she cancelled welcomed them.
Watch the video right here on Radaronline.com
"It's bad enough that Aviva backed out on the trip, but she still manages to be dramatic even when she's not here," said Heather Thomson. "Why the hell would she need a wheel chair?"
After landing, the ladies discovered that the five-star ranch Kristen promised was far from their normal vacation standards.
"I just got off of a six hour flight. The last thing I want to see are dead animals stuffed in my face," said Ramona.
Article continues below advertisement
When they arrived to the ranch, both LuAnn de Lesseps and Ramona sighed, "This is it?"
After downing Huckleberry juice, the women embarked on their first adventure: Cattle driving.
Surprisingly, the ladies actually adapted to their surroundings and rode the horses without a glitch; even Sonja Morgan overcame her fears after falling off the saddle years ago.
During dinner, the Park Avenue princesses were displeased to discover that they were eating in a barn – right next to horses!
"Where's the food? We're not having dinner in a barn where there's horses and cattle and manure," Ramona said.
In last week's episode, Sonja's facialist gossiped about Carole Radziwill and LuAnn. The facialist claims Sonja had a fling with Carole's boyfriend in L.A. In the beginning of the episode, Carole informs viewers that she confronted Russ about the affair and he denied it.
"There's not one cell in my body that is thinking that this story is true. Sonja is definitely not Russ' type, but Russ is definitely Sonja's type — he does have a penis," Carole told the camera.
Article continues below advertisement
LuAnn doesn't take the news sitting down, especially when she learns that the facialist revealed that LuAnn sleeps with whomever she wants and even likes short French guys.
"I would have grabbed her stuff and I would have said get the hell out of my house! Are you kidding me?" LuAnn said to a silent Sonja. "It doesn't offend you that someone is telling you about your life in your house, and gossiping about you and your friends?"
"If it's not true, who cares?" Ramona says to camera. "LuAnn is way too sensitive."
The drama continues next week, as LuAnn continues question why Sonja didn't stand up for her.
Don't forget to watch The Real Housewives of New York City drama unfold Tuesdays at 10/9c on Bravo.