Exclusive
What Bankruptcy? 'RHONY' Star Sonja Morgan Spends An Average Of $34,000 Per Month, New Court Papers Claim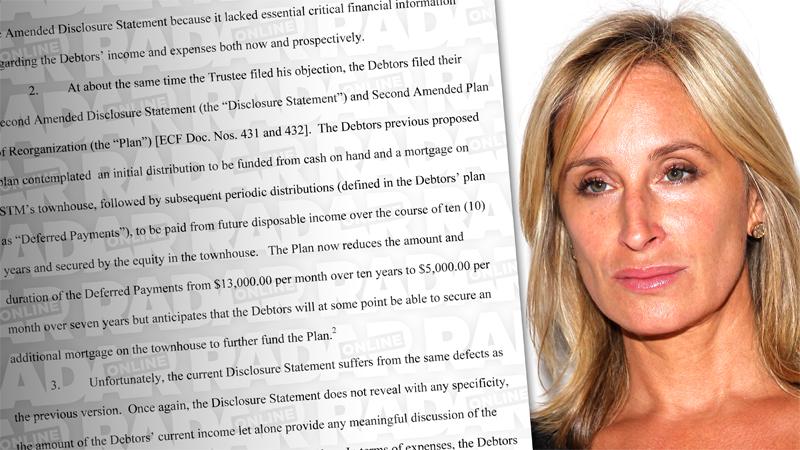 Reality bites! Real Housewives of New York star Sonja Morgan has hit yet another bump in the road in the bankruptcy case that threatens to strip her of her Manhattan townhouse.
In court documents exclusively obtained by RadarOnline.com, the trustee in Morgan's bankruptcy raises concerns that her plan to pay what she owes to creditors "does not reveal with any specificity the amount of the debtor's current income, let alone provide a meaningful discussion of the debtor's anticipated income over the entire course of the plan."
Article continues below advertisement
As RadarOnline.com reported, the feisty reality star's creditors are fed up with what they allege are Morgan's tactics to delay paying them the money she owes – and they are demanding the court approve her New York home be sold off at public auction as soon as possible.
Trouble began for Morgan, 50, when she was forced to declare bankruptcy in 2010 after Hannibal Pictures, a production company, sued her for allegedly failing to raise money for a film starring John Travolta.
MORE ON:
Celebrity Justice
Morgan's proposal included her keeping her home, along with all creditors being paid 80% of the money she owed them. But Hannibal claims her plan is entirely selfish and its sole purpose is to keep her Manhattan home, which they argue is absurd, because her creditors are owed a bundle.
In the latest legal bout, it doesn't help Morgan that the trustee has detailed her extravagant spending throughout the course of the bankruptcy proceedings. Documents detail how she has spent piles of money on personal and business expenses, including a reported $1,804 for travel and entertainment, $4,385.89 in food, clothing and hygiene, $1,573 in medical costs and other expenses that have equaled on average $34,000 a month.
In a major blow, the trustee is requesting the court to deny Morgan's proposal even before it gets voted on by her creditors.
"Without an actual projected budget, voting creditors will have no reasonable basis to assess the Debtors' ability to fund the Deferred Payments and to obtain additional financing," the papers state.
Story developing.