Exclusive
No Longer Living Large? 'RHONYC' Star Sonja Morgan's Creditors Demand Her Home Be Sold After Her Alleged Manipulative Games In Bankruptcy Battle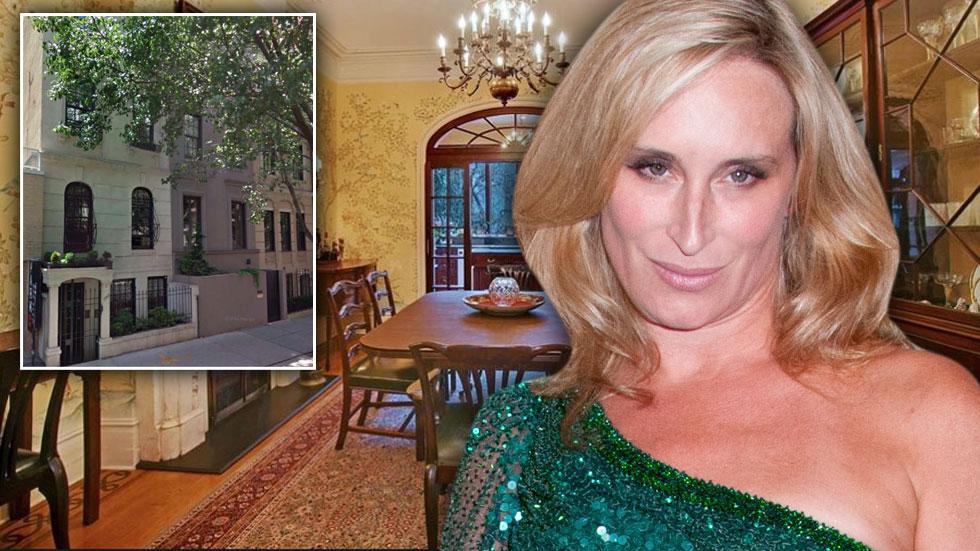 Sonja Morgan's desperate battle to keep her ritzy Manhattan townhome continues.
RadarOnline.com has exclusively learned that the Real Housewives of New York City star's creditors are tired of what they allege are Morgan's manipulative games to delay paying them the money she owes --and they are demanding the court approve her New York home be sold off at public auction as soon as possible, according to new legal documents.
Article continues below advertisement
The mess began after the sassy reality star, 50, was forced to declare bankruptcy in 2010 after she was sued by Hannibal Pictures, a production company, for allegedly failing to raise money for a film starring John Travolta.
And the reality star filed court papers in her bankruptcy, objecting to a proposed repayment plan by Hannibal Inc.
Morgan, the ex-wife of J.P. Morgan heir John Morgan, explained that their plan to liquidate all her assets by selling them off was absurd, especially since they wanted to put her New York town home on the auction block.
The reality TV star, who is known for her outspoken ways on 'RHONYC,' pleaded to the court that she had always intended to keep her home in the bankruptcy because it benefited her only child, daughter Quincy.
Morgan's proposal included her keeping her home, along with all creditors being paid 80% of the money she owed them.
But Hannibal claims her plan is entirely selfish and its sole purpose is to keep her NY home, which they argue is absurd because her creditors are owed a bundle.
Article continues below advertisement
The company is demanding in legal papers that Morgan's, " Townhouse shall be promptly sold at a public auction…at the discretion of the Trustee," and "the Trustee may establish a reserve price that would be under seal."
PHOTOS: The Tax Man Cometh: 25 Hollywood Stars Who Faced Tax Trouble
As Radar readers know, Morgan's five-story, five-bedroom home boasts a fireplace, garden, gym-spa-bath with sauna and cedar-lined, climate-controlled closets. She was hoping to sell it to pay off her debts, but found no takers. The reality TV firebrand was renting it out to make money until she could unload it while living in an Upper East Side apartment nearby.
Court docs reveal Morgan's bankruptcy plan would involve her paying a total of 62% of her debt at the time the judge signs off on the proposed plan. Then a remaining $1.56 million would be paid off over the next ten years, which Morgan claims will be paid from her future earnings, coming out to $156,000 a year.
On September 29, however, Hannibal Inc. fired back at Morgan's proposal, explaining that the reality star has done everything in her power to delay payment of the whopping $7 million she owes them. According to them, Morgan's misdeed includes contesting the judgment they won against her by appealing the decision and also attempting to void the judgment by arguing another entity other than Hannibal was awarded the money.
Article continues below advertisement
They explain that, "the consequence of Morgan's incessant and meritless efforts to evade the consequences of the Hannibal Judgment has been a five year delay in payments to creditors and a significant diminishment in available cash to pay creditors from in excess of $2,000,000 at the commencement of the Morgan case to perhaps less than $1,000,000 today."
Hannibal is sternly proposing a plan to "bring this case to a conclusion, eliminate any further wasting of the Debtors' assets and allow for a prompt payment to the Debtors' creditors of an estimated 100% of their allowed claims, plus possible interest."
The company argues that their plan is in stark contrast to Morgan's proposal, which allows for "significantly lower payments to creditors over time and an unacceptable risk of non-payment."
The fate of Morgan's beloved New York townhome will be decided soon as the plans presented by Morgan, and Hannibal will be voted on in court by all of the reality star's creditors.
While going through the legal drama, Morgan is promoting her "fashion lifestyle brand" and producing events for charities.