Exclusive
Sonja Morgan's Bankruptcy Spurs Battle Between Film Production Company & Her Trustee's Attorneys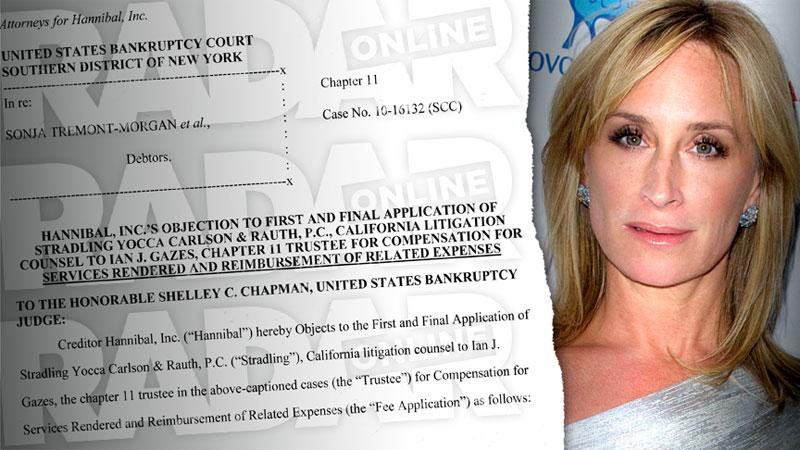 Sonja Morgan is at the center of yet another financial firestorm, with a production company she owes $7 million to at odds with her trustee's bankruptcy lawyers for more than $165,000 in the legal fees they collected in the case.
As we previously reported, Morgan filed for Chapter 11 bankruptcy back in November 2010 after she lost a legal battle with Hannibal Pictures, a production company who claimed she failed to raise money for a film starring John Travolta; the court subsequently slapped her with a judgement, saying she owed the film company more than $7 million.
Article continues below advertisement
The RHONY star has been dealing with her massive amount of debt. in court, and most recently, sold off her French estate for $5.7 million to be used to start paying off her creditors.
On July 31, Hannibal Pictures filed docs in New York protesting the bankruptcy trustee's lawyers (with the firm Stradling Yocca Carlson & Rauth, P.C.) collecting a sum totaling more than $165,000 for their work on the case.
Read The Docs on RadarOnline.com
The film company said that the money being requesting for the work was "unnecessary, unauthorized and/or unreasonably excessive and therefore not recoverable."
Hannibal explains that the breakdown of the money they are requesting contains "spending grossly excessive hours in performing its services; having six different attorneys perform overlapping and duplicative services; billing for unauthorized appellate services not approved by the court; billing for unnecessary services regarding matters outside the record of the district court action which were completely irrelevant; and seeking reimbursement for unnecessary expenses."
In the docs, Hannibal described many of the law firm's billing entries as "woefully vague and insufficient."
The company said that the legal fees should be cut by $100,000 at least, and that the lawyers should receive a maximum of $30,000 in legal fees for their efforts on the reality star's case.