Exclusive
Kitchen Nightmare! Gordon Ramsay's Empire Is More Than $50M In Debt & Bleeding Cash — Corporate Documents Reveal The True State Of His Business Affairs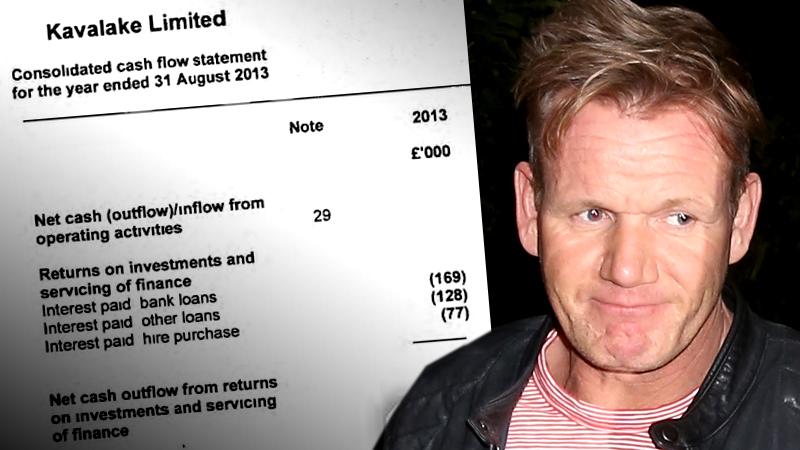 Article continues below advertisement
Directors reports for Kavalake Holdings, the umbrella company for Ramsay's many business endeavors, and Gordon Ramsay Holdings, a subsidiary that was once the main business entity, reveal just some of the financial difficulties Ramsay and his partners face.
READ The Full Extent Of Ramsay's Finances
For the fiscal year ending August 31, 2013, Kavalake made a gross profit of $36.5 million (£21,622,000, with current exchange rate taken from Xe.com), with expenses of $45.8 million (£27,120,000) and an operating loss of $9.2 million (£5,458,000). With other expenses added, the loss for the year was more than $10.8 million (£6,417,000).
In addition, the report states, Kavalake had just $7.4 million (£4,380,000) cash at hand and $50.5 million (£29,887,000) of debt due in one year.
A portion of the debts is constituted by a whopping $3.8 million (£2,277,000) in legal and compliance costs, which the company has admitted were related to Ramsay's settlement with Chris Hutcherson, his father-in-law turned legal adversary. The two have tussled in court since 2012 over claims of unfair dismissal and unpaid wages, but Ramsay recently settled.
Article continues below advertisement
The situation at the main subsidiary, Gordon Ramsay Holdings Limited, is even more complicated.
PRODUCTION EMBED GORDON RAMSAY HOLDINGS DOCS — READ The Documents On His Millions In Debt
Records for the fiscal year ending August 31, 2013 show a gross profit of $11 million (£6,575,597). Administrative expenses, however, were $12.2 million (£7,210,321), with interest and other charges at a loss of nearly $83,000 (£49,151). In total, the company lost roughly $1.2 million (£683,875) that year. The year before, the operating loss was $1.74 million £(1,031,019).
MORE ON:
Kitchen Nightmares
Perhaps more disturbing, the company has $69.6 million (£41,202,582) falling due to creditors within one year, and just $25.7 million (£15,200,975) in on-hand assets (including £92,687 cash, or roughly $166,475 on hand and various stocks). That amount includes $2.6 million (£1,521,692) in bank loans that must be repaid, $1.25 million (£740,964) to trade creditors, $43.5 million (£25,761,763) owed to group undertakings, roughly $36,000 (£21,390) to other associated undertakings, and more.
Article continues below advertisement
They also note that this year, the company was forced to spend nearly $2.8 million (£1,634,113) on legal and compliance costs.
The three directors, one of which is Ramsay, all abstained from paying themselves from Gordon Ramsay Holdings in both 2012 and 2013, but the report for Kavalake shows more than $595,834 (£353,000) paid out to the three directors, one of which is Ramsay. Ramsay also has more than $8.4 million (£5,000,000) in personal guarantees sunk into the company.
These documents only relate to Ramsay's British business. In addition to 12 restaurants in the U.K., he has more than a dozen scattered elsewhere across the globe.
— The Ultimate Guide To Reality TV Shows
And despite the numbers, auditors seemed optimistic in the reports, noting that while "directors expect the trading environment to remaining sic challenging in the near future … the principal measure used to assess performance is operating profit," which they found satisfactory, and that the "company has no significant concentrations of credit risk."
Meanwhile, the Ramsay family continues to expand their business empire: His 12-year-old daughter Tilly just landed her own cooking show.
Update:
A rep for Ramsay tells Radar: "This is an inaccurate interpretation of the public filings that were reported widely in the media back in May, and any claim that the company is anywhere near bankruptcy is ludicrous. It is standard for the head of the company to deliver loans to expand the business and ensure experiences remain first class, and the Gordon Ramsay Group continues to deliver a strong performance, with growth year on year."