'Kitchen Nightmares' Most Controversial Restaurant Owners Now Claiming Gordon Ramsay 'Sexually Harassed' Amy Bouzaglo During Filming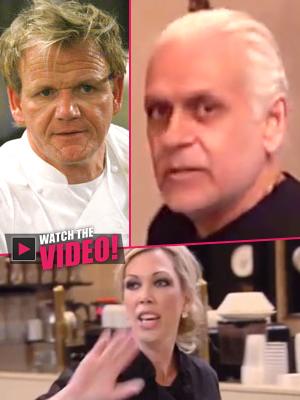 Article continues below advertisement
But the allegations made by Samy and Amy recently are no laughing matter.
In a YouTube video published on Nov. 5, 2013, Samy is seen in his Scottsdale, Ariz. restaurant speaking with a group of female customers about the couple's appearance on Kitchen Nightmares.
"You harassed my wife, sexually harassed, in the kitchen, he did. He did that," Samy said.
"He is nothing, because I show him I am not the other restaurants, he did what he wanted from other wives. Put them on the war between husband and wife, he tried. He tried!
"More drama," Amy chimed in.
"And we fired him," Samy continued. "Don't believe what he say, he left in the middle of the night. We had this coming out. He wasn't supposed to air our show. And they did, it was not finished!"
See the video in full here:
youtube
Then in an interview with a man named Jonathan Langdale on March 10, 2014, Amy reiterated the sexual harassment claims.
"I can't take that video down. His lawyers wanted me to take it down and we said, 'F**k you, we're not taking it down. It's true!'" she said.
Article continues below advertisement
"Wait until you hear what he did to me sexually, wait until you hear how he harassed me."
And when Langdale inquires as to whether agreements and documents signed by the Bouzaglos to appear on the show would protect Ramsay, Amy unleashes.
"We told them, sue us! We want you to sue us because we will take your company down when they find out the truth and all the proof that we have. Wait until the public finds out! And that's why they haven't aired everything, because we've been keeping track," she claimed.
MORE ON:
Kitchen Nightmares
"We have proven to them that they were like, 'Oh my God, those people have to be silenced' because if our story gets out there, what they did to us and what we can prove, they are ruined. They are ruined."
And despite numerous threats from production to the Bouzaglos to keep their mouths shut — as RadarOnline.com has exclusively reported — Amy says they have yet to follow through.
"They can't! They can't! They won't! If so, they would have done it a year ago. They threatened to sue us one year ago when we were about to have our press conference…"
Article continues below advertisement
"They can't sue us. I want them to sue us. If they had to sue us they would have sued us long ago. They can't. It will go straight to arbitration and with all of the proof that we have, and the documentation we have that they can't run away from. They know that they can't."
Amy's interview with Landgale starts in the video at 6:25 here.
RadarOnline.com reached out to Ramsay's camp for comment but got no response.
Article continues below advertisement
"As part of it, one of the judges told her the only way he'd have an appreciation for her is if he was looking at her naked body! Two of my friends were physically assaulted, one by production, one by a judge. … I'm beyond disgusted … I'm livid."
A rep for Shine America, which produces MasterChef, dismissed the women's claims against Ramsay, Joe Bastianich and Graham Elliot, saying, "Contestants on MASTERCHEF are treated with the utmost respect and professionalism and we care tremendously about their well-being. The recent comments posted about the treatment of the contestants are completely without merit."
UPDATE 1:40 p.m. -- A spokesperson for Kitchen Nightmares tells RadarOnline.com, "The owners of Amy's Baking Company continue to make baseless and inflammatory comments. These ridiculous accusations are completely untrue."