Exclusive
'Kitchen Nightmares' Lawyers Threaten Restaurant Owners: Shut Up -- Or You Owe Us $100K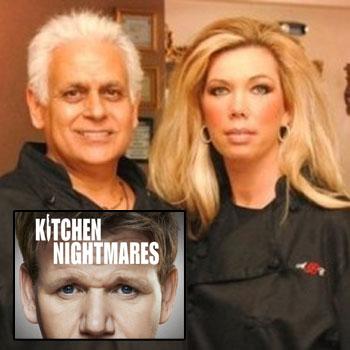 Kitchen Nightmares production is not happy with the media circus that has ensued after controversial restaurant owners Amy and Samy Bouzaglo appeared on the hit Gordon Ramsay show, and RadarOnline.com has exclusively obtained a threatening legal letter sent to the Amy's Baking Company owners telling them to shut up or pay up!
With a grand re-opening planned for Tuesday in Scottsdale, Ariz., attorneys representing the production company behind Kitchen Nightmares sent a letter last Friday to the Bouzaglos stating that any words said about the show in public would be a breach of their contract and the couple would be liable for damages up to $100,000 — each.
Article continues below advertisement
"These agreements prohibit you from speaking publicly about Kitchen Nightmares, other than to acknowledge 'the mere fact of your participation in the Series in personal publicity relating to yourself.' Your conduct exposes each of you to liability for liquidated damages of $100,000."
The letter finishes by insisting that Amy and Samy "refrain from making any statements to the media or the public, at the May 21 event or any other forum, about Kitchen Nightmares and anyone associated with it."
Article continues below advertisement
"The press conference had to be canceled to ensure the safety of everyone involved. Amy and Samy have received many death threats. And not only are people threatening them, but they're even threatening to kill their cats, which everyone knows are like children to Amy and Samy."
Looks like it was a combination of death threats AND legal threats!
Read the legal letter below.