Exclusive
Kitchen Nightmares' Controversial Couple Changes Their Tip Policy -- Now Paying Less!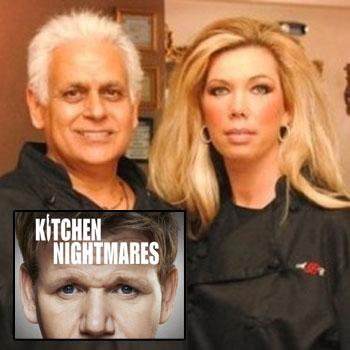 Viewers were outraged to learn Amy's Baking Company owners were keeping the tips their servers earned when the restaurant was featured on a recent episode of Gordon Ramsay's Kitchen Nightmares, but RadarOnline.com has exclusively learned the backlash has caused owners Amy and Samy Bouzaglo to implement a new tip policy — by paying their servers less.
Prior to the policy change, servers at the Scottsdale, Ariz. restaurant were paid between $8 and $14 an hour, but all tip money went straight into the owner's pockets, a big no-no in the service and hospitality industry.
Article continues below advertisement
"We believed this was a sound approach, especially on nights when the restaurant was not as busy. In those cases the bussers were making more than we were as servers because they were guaranteed a higher hourly wage instead of making money only when we had customers or were busy."
The restauranteurs — who have now been dubbed "the most hated restaurant owners to ever appear on Kitchen Nightmares" — plan to put the release on their Facebook page on Friday.
MORE ON:
Kitchen Nightmares
Article continues below advertisement
"However, to avoid any misperceptions moving forward we will pay $4.80 per hour with all tips going to those serving the table. That is the standard practice and we will follow it. For our grand re-opening we will need to hire temporary contract staff through a professional staffing company and will pay their rates," the statement says.
"If we offended any of our staff or customers by any of our actions or words, we are deeply sorry. As we move forward to preserve our livelihood and attempt to come back, we ask for forgiveness."
As RadarOnline.com reported on Thursday, former Amy's Baking Company waitress Katy Cipriano said on her Reddit page that the restaurant owners were cheap, not letting her taste any of the food on the menu — without paying out of pocket.
"They never let me try their food and i never felt like paying for it out of my own pocket. So i have actually never tasted anything from there," she said.
"I think the show just brought out Amy's inner demonic soul."