Exclusive
Kitchen Nightmares Most Hated Couple: Owner Is Convicted Felon!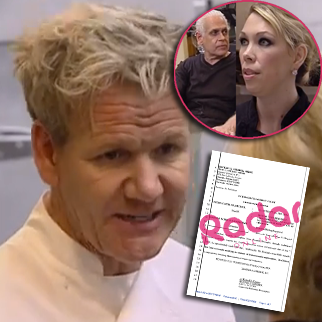 It continues to get worse for the owners of Amy's Baking Company, the most hated couple to ever appear on Gordon Ramsay's Kitchen Nightmares, because RadarOnline.com has uncovered court documents in which owner Amy Bouzaglo was convicted of using a fake social security number to obtain a loan — a class D felony!
Amy, real name Amanda Patricia Bossingham, submitted an application for a line of credit with M & I Bank using the social security number of another person on August 16, 2001, and the bank approved a credit line in the amount of $15,000.
Article continues below advertisement
Amy, now 40-years-old, submitted a motion to extend her self-surrender date and modify her sentence in June 2008 — with her attorney making excuses for why the restaurant owner committed the crime.
"At the time of her offense, Ms. Bouzaglo's mother had just passed away, her marriage had just failed, and her small business went under as a result of her divorce," the documents state.
Scottsdale, Ariz. restauranteurs Samy and Amy Bouzaglo remained the target of online attacks via Facebook, Reddit and Yelp users Wednesday, after their boorish behavior on Gordon Ramsay's Kitchen Nightmares program made them the focus of snarky posters, and their fierce comebacks only fanned the flames.
Article continues below advertisement
After a spirited back-and-forth with commenters turned into a full-blown meltdown Tuesday, the Bouzaglos took to the official Facebook page for their establishment, Amy's Baking Company, where they distanced themselves from the online ugliness.
"Toward the end of her criminal case, Ms. Bouzaglo met a man by the name of Salomon Bouzaglo, who is now her husband for five years. With her husband's overwhelming support, Ms. Bouzaglo made drastic changes in her life and formed new, positive relationships. The Bouzaglo's opened a restaurant named Amy's Baking Company in Scottsdale, Arizona, which is now very successful."
The documents also claim that Amy "donates her time and money" to various charities such as the St. Nicholas Youth Organization and the Fraternal Order of Police.
As RadarOnline.com previously reported, Amy and her husband Samy Bouzaglo's appearance on the hit FOX show didn't go well and subsequently escalated into a full-blown social media meltdown on Tuesday.
"It's finally happened: After almost 100 Kitchen Nightmares, I've met two owners who I could not help," Chef Ramsay said during the episode that aired.