Kitchen Nightmares Waitress Speaks Out On 'Hated' Restaurant Owners: 'The Show Brought Out Amy's Inner Demonic Soul'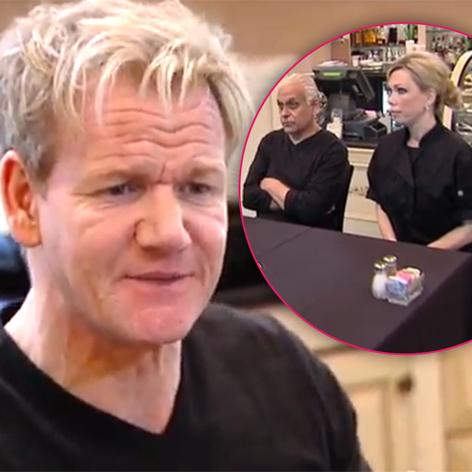 The waitress who was fired during an episode of Kitchen Nightmares for asking Amy's Baking Company owner Amy Bouzaglo, "Are you sure?" about which table to bring food to, is speaking out about her experience on Gordon Ramsay's show saying, "I think the show just brought out Amy's inner demonic soul."
Former waitress Katy Cipriano took to her Reddit account on Wednesday to answer questions from fans about her time at the Scottsdale, Ariz. restaurant — revealing that what didn't air, was police showed up to the establishment after owner Samy Bouzaglo got physical with a customer during FOX's Friday night airing of the episode.
Article continues below advertisement
"Production cut it off short but the first night, after samy brutally yelled at and laid his hands on that one customer," Katy wrote.
"The cops did end up being called and everyone had to leave the restaurant and the producers had to pay for everyone's meals. Crazzzyyy."
Katy says Kitchen Nightmares paid for the meals "because all of the customers were escorted out during the middle of their dinners."
"I think the show just brought out Amy's inner demonic soul," Katy wrote when asked if the owner was as "crazy" as she appeared on television.
"The episode was shot in december so quite a while ago and none of amy or samy's actions were staged. People may have purposely sent back their food or falsely complained for a chance to be on tv, but that's about it. Everything else was 100% real."
As for the restaurant's food quality, Katy wouldn't know!
MORE ON:
Amy's Baking Company
Article continues below advertisement
"We do not feel the need to make any excuses for our behavior on tonight's show," they wrote.
"I would challenge any of our employees past or present to come forward with proof that we have ever done such a horrible thing."
So while former waitress Katy confirmed the restaurant really was a clean as it appeared on the show, she said she doesn't know how Samy and Amy are still in business.
"Honestly i have no idea why they wanted to be on the show. maybe they thought they'd get great publicity from it???" Katy wrote.
"Honestly i just dont get how or why they still have a business."
radar_embed service=5min.com src="http://pshared.5min.com/Scripts/PlayerSeed.js?sid=1126&width=570&height=351&playList=517780941&sequential=1&shuffle=0"