Arizona's 'Kitchen Nightmares' Restaurateurs Vow To Reopen, Deny Confiscating Tips From Servers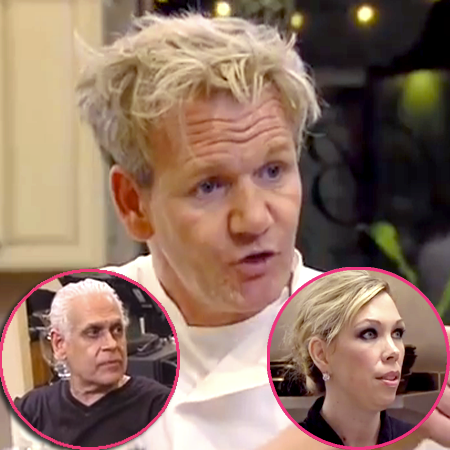 The besieged owners of a Scottsdale, Ariz., restaurant are not done taking on the most celebrated name in television food Gordon Ramsay.
Not content with failing the celebrity chef's hit FOX show, the husband-and-wife team behind the hapless Amy's Baking Company issued a press release via their Facebook page late on Wednesday night, promising to reopen the heavily criticized bistro next Tuesday, following "unflattering portrayals on national television."
Article continues below advertisement
Added Sammy, "We are very upset by what has taken place, apologize about the acrimony that has ensued, but now must fight back to save our business.
We hope and believe much good can result from what has transpired. We ask the public to keep an open mind as we begin to tell our side of the story."
On last Friday's episode of FOX's Kitchen Nightmares, the typically foul-mouthed Brit Ramsay was unusually exasperated as he walked off the program for the first time in the show's history.
Article continues below advertisement
"After almost 100 Kitchen Nightmares, I've met two owners who I could not help," he said on the broadcast. "In a short period of time, they've managed to p*** off the community and go through over 100 employees in one year."
The couple stole tips from their staff, regularly berated customers -- one diner who asked why he had not been served was even told to "go f*** yourself!" -- and served sub-par food, the episode revealed.
However, the Bouzaglos have described the allegations that they stole or confiscated tips from servers as a "falsehood."
"In fact, wait staff is paid $8-$14 per hour, two and half to nearly five times the standard hourly wage for servers," said their press release, titled 'Other Side of Amy's Baking Company Controversy in Scottsdale To Soon Be Told'.
In the wake of their national humiliation, the couple launched an online diatribe against their critics, though later claimed they were hacked.
Article continues below advertisement
"You are all little punks," one of their alleged messages read. "Nothing. You are all nothing. We are laughing at you. All of you, just fools. We have God on our side, you just have your sites."
At their grand reopening, the Bouzaglos have promised "questions will also be answered about what happened to their Facebook page."
Plus, when re-opened, the pair said a portion of their proceeds will benefit a charity organized to bring awareness to cyber bullying.
radar_embed service=5min.com src="http://pshared.5min.com/Scripts/PlayerSeed.js?sid=1126&width=570&height=351&playList=517780941&sequential=1&shuffle=0"