Exclusive
Kitchen Nightmares Controversial Couple Turns The Tables! Post Prankster's Phone Number On Their Facebook Page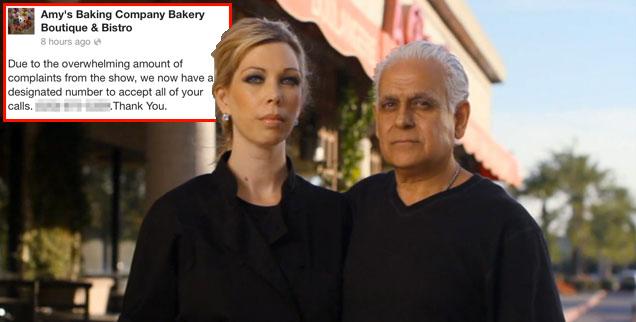 The owners of Amy's Baking Company are turning the tables on pranksters who have been harassing their restaurant since its controversial appearance on Gordon Ramsay's Kitchen Nightmares — posting one person's personal cell number on their official Facebook page, RadarOnline.com is exclusively reporting.
According to an insider, owners Amy and Samy Bouzaglo were so frustrated by all the prank calls coming in to their Scottsdale, Ariz. establishment that they decided to turn the tables on their detractors, one in general, causing the person to have to disconnect and/or change their phone number.
Article continues below advertisement
"They get so many mean and harassing phone calls to the store that they fought back this weekend," the insider told Radar.
"They posted one of the pranksters phone numbers on their official Facebook page so they would see how it feels. The guy got so many calls to his Verizon cell phone that he had to change his number."
Here is what the Bouzaglos posted on their Facebook page: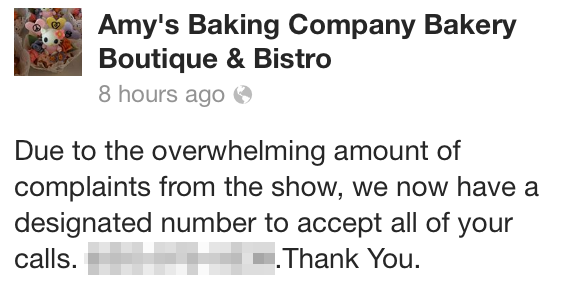 It's not the first time the Bouzaglos have fought back online — and it's what got them in trouble with the public in the first place!
MORE ON:
Amy's Baking Company
Article continues below advertisement
"But no doubt, you will be seeing Amy and Samy on TV again sometime in the future. They need to generate money and publicity to keep their business going, otherwise customers just dropping in because of their Kitchen Nightmares appearance will fizzle and their restaurant will go under."