Stolen Tips, Cursing At Customers & Store Bought 'Homemade' Desserts: Gordon Ramsay's Worst Kitchen Nightmares Couple Yet!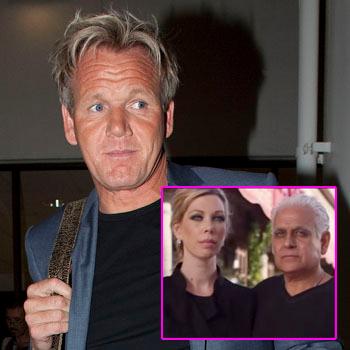 In what might be the most explosive pair of restaurant owners to ever grace an episode of Gordon Ramsay's Kitchen Nightmares, the couple running Amy's Baking Company were accused of stealing tips from their staff, cursing at customers and serving "homemade desserts" that are anything but homemade.
The reality TV chef's Hell's Kitchen spin-off turned into all-out war when he got so fed up with the Scottsdale, Ariz. restaurant owners that he refused to help Amy and Samy Bouzaglo, in Friday's episode of the show which was filmed last December — and the feud has boiled over from reality TV into the world of social media when the subjects of his latest verbal tongue-lashing fought back online.
Article continues below advertisement
Despite knowing the disastrous outcome of the culinary experiment well in advance, the couple still promoted the airing of the drama on their Facebook page, prompting a backlash of criticism from disgruntled former diners, reported Yahoo! Shine.
Along with finding pre-bought desserts and frozen food, Ramsay was disgusted when he heard the Bouzaglos cursing out the customers and taking away their servers' tips, prompting him to get up and walk away saying, "I can't help people who can't help themselves."
Rather than letting tensions simmer down, the couple have fought back in a combative Facebookpost and launched their own PR campaign claiming that they "do not feel the need to make any excuses for our behavior on tonight's show."
Unfortunate customers who got dragged into the drama beg to differ, with one anonymous diner telling the Phoenix New Times, "It was very tense, you could hear Amy yelling in the kitchen and Samy was running all over the dining room. Other tables were complaining and people were leaving because they were waiting so long for their food.
MORE ON:
Kitchen Nightmares
Article continues below advertisement
"My partner and I had reservations for 6:45. By 9:30, we still hadn't received our pizza."
And when they asked why the meal had taken so long, Samy rudely replied, "Why don't you go f**k yourself."
Still, the Bouzaglos are adamantly defending their business and on Sunday posted a message saying, "We would also like to thank all of our NEW customers that have shown an OVERWHELMING amount of support for us!!! You are all wonderful people and we commend you for being intelligent enough to realize that everything you see on TV or read is not necessarily true!"
Rather than falling for her sugary sweet niceness, thousands of disgruntled former customers blasted the baker across the web on Reddit, Yelp, and Facebook calling her out for lifting "homemade" items from other people's websites.
"Amy, just because you didn't burn things in your E-Z Bake Oven when you were a kid does not mean you have 'talent' for cooking," wrote one witty commenter, while another compared the restaurant to the Bates Motel.
Eventually calling them "stupid people," Amy went on a fueled Facebook rant using language that would even make Ramsay blush!
"We are not freaking out. We do not care about a witch hunt," she wrote.
"Piss off all of you, f**k Reddit, f**k Yelp, f**k all of you."