Kim Orders Khloe To Kick 'Depressed' Slob Rob Out Of Her House -- Old Food & Pill Bottle Found In His Room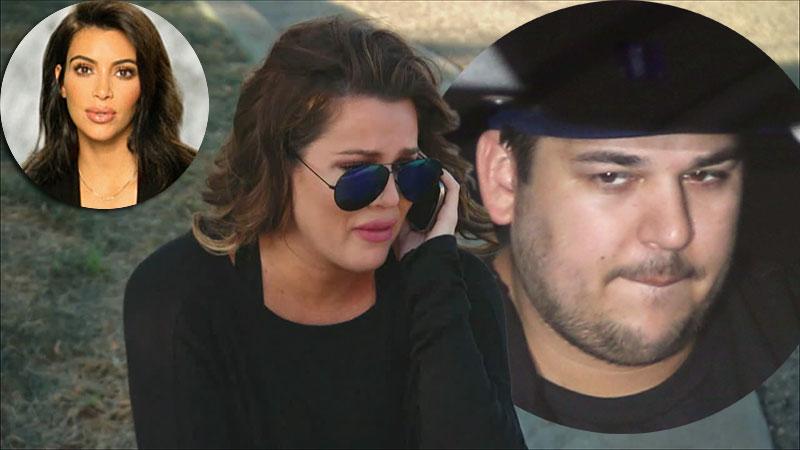 On Sunday night's episode of Keeping Up with the Kardashians, Kim Kardashian urges her family to cut off troubled brother Rob financially and suggests that sister Khloe kick him out of her home.
During the show, it is revealed that squalid Rob has been living in Khloe's house ever since he went MIA from the family.
Cameras zero in on a dirty plate in Rob's room that once contained food.
Khloe tells Scott Disick, referring to the housekeeper, that it was "the quesadilla that he makes Angela make him every day."
Article continues below advertisement
Other highlights of Rob's room are a bowl containing remnants of what looks like milk, a mystery pill bottle on his bedside table (with the label digitized out), condoms, a TV left on, and an unmade bed.
Disick notices Rob's shelves full of personal care items such as toothpaste and comments that his room looks like "a bomb shelter."
Khloe sighs to the cameras, "Rob lives with me but he'll sleep all day and he'll kind of sneak out at some point and just leave and then I won't see him all night 'cause I'm asleep like a normal person."
And later, mom Kris Jenner notes, "He's been spending a lot of money and locking himself in his room a lot."
As RadarOnline.com recently reported, sources suggest a 'depressed' Rob is livid that his weight gain and other personal problems that have become KUWTK fodder.
As a result, the family attempts to stage an intervention.
Kris sobs to a therapist that Rob had packed on more than a hundred pounds in a year, and arranges for a team of counselors to surprise him.
Article continues below advertisement
While Khloe remains sympathetic to her brother, Kim shows no mercy after Rob turns away the counselors.
Rob tells Khloe that counselors aren't the right way to handle his issues.
Kim then suggests to Khloe that if he continues to refuse help, "You just need to say, 'You're kicked out of the house, you're cut off, your bank accounts and your credit cards are closed. You do not have a dime.'"
Khloe protests, "I can't kick him out of my house."
But Kim insists, "Yeah, you can. That's what you have to do."
Khloe then asks Kim if she would tell Kris to have the family's financial team cut him off. The younger sister then admits that Rob also "gets food from her and he drives her cars."
Later, viewers hear Rob's voice as he whines to Khloe on the phone about needing her housekeeper.
When Khloe attempts tough love, Rob mutters: "You're just making it difficult."
Article continues below advertisement
Later, after Rob leans on momager Kris for support, she invites him to stay at her place.
KUWTK also documents Kim's medical crisis after she finds out that her placenta has grown onto her uterus, devastating the star who wants baby number two with husband Kanye West more than anything.
Dr. Huang assures Kim he'll do whatever he can to clean out her uterus. While he feels Kim cam still conceive, Dr. Huang says surrogacy is the only way to guarantee a healthy pregnancy.
Kim tells cameras that a surrogate mom would be the last resort.
However, Kris says "Kourtney probably would do it" for Kim.
As both Kim and Kris worry about the procedure, KUWTK ends with "to be continued."
Earlier on the episode, Kim tells Kourtney about her visit with stepdad Bruce (who is transitioning into a woman), "I swear to God he had Spanx on."
Kim, who has been trying to lose 15 pounds, also tells her pregnant sister, "The key to no stretch marks and a flat stomach after you have a baby is a waist cincher. I told it to everyone. I have people thanking me."
Kim says her biggest fear in life is a stretch mark. That is, besides infertility.