Who's In Kontrol? 'Crazy' Kanye West Threatens Kim K's Personal Trainer Who Declares 'There's No Way' She Can Lose 15 lbs – Find Out Her Real Weight!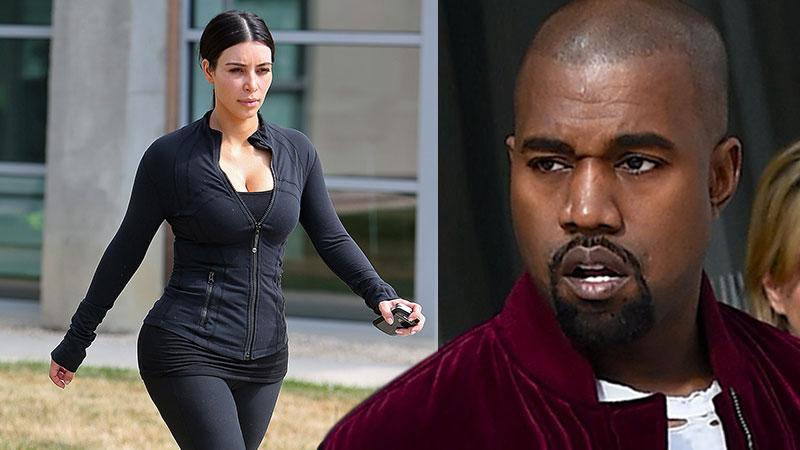 Kanye West is in kontrol of Kim Kardashian's weight loss plan to shed 15 pounds.
That's what the reality TV queen implied on Sunday night's episode of Keeping Up with the Kardashians as she breathlessly reveals to sister Khloe that her volatile husband had threatened her personal trainer.
Kim told Khloe, "Do you want to die? Kanye literally went crazy on the trainer today.
"She was like, 'So what are your goals, tell me everything.' And I was like, 'I need to get down to 120.'"
Article continues below advertisement
But instead of making suggestions, Kim, who weighs 135, says the trainer expressed shock.
"She's like, 'There's no way. I can't even imagine you 15 pounds lighter,'" Kim said.
At which point, Kanye intervened.
"Kanye's like, 'Wait a minute. You are the trainer and you're telling me you can't imagine her 15 pounds lighter?
"We need to get another trainer then because if I tell you she needs to lose weight in between her toe, you would have figured out a f*cking toe weight,'" Kim says to her sister, who laughed about West's apparent bullying attitude.
Also on the episode, Kim advises stepdad Bruce Jenner to stop squandering his money.
The former Olympian, who split from wife Kris Jenner, had been enjoying his freedom, which included buying gifts for people. And when daughter Kylie told Bruce she needed a new designer purse, he vowed to make her dream come true.
"In the old days, Kris bought all the gifts but now I can actually go out and buy that little purse for her," says Bruce, who as RadarOnline has reported, is transitioning into a woman.
Article continues below advertisement
But when Kim accompanies him on the shopping trip and asks about his budget for Kylie's purse, she's floored to hear $5,000!
Kim says it was way too much money and later presses Bruce about his overspending.
"You're going out buying Kylie a $5,000 purse which is half of your mortgage," Kim points out.
The worried stepdaughter also told the cameras, "The last time he was on his own he was in debt so I figure that will happen again if he doesn't have someone explain to him he can't spend whatever he wants, whenever he wants."
Watch the Video on RadarOnline:
Kim makes Bruce understand that she and her sisters don't need fancy presents from him.
On Sunday's show, viewers also see Kris going to a surgery center to get an epidural in her neck.
"I suffer from a lot of neck pain," she says, noting the procedure would give her relief.
Bruce agrees to drive her to the center but as RadarOnline.com previously reported, he cries when Kris tells him that Kourtney will be the one making medical decisions from now on, should Kris be incapacitated.
Article continues below advertisement
During the episode, however, Kris wavers between naming either Kourtney or Kim as the executor of her will.
In the end, she surprisingly selects Khloe.
"You're actually my favorite," Kris whispered to Khloe.
KUWTK also shows Kim, Khloe, and Kris worrying about Kourtney's baby daddy Scott Disick and his "shady" behavior.
The three are suspicious over Disick's stack of license plates and his constant mysterious deals.
Khloe even wonders if Disick is involved in stolen cars.
But later, Kris discovers Disick was actually president of Calabasas Luxury Motorcars.
Kourtney confronts him and he explains he just didn't like discussing work.
Also, in a downer of a moment for Khloe, Kris mentions it was Lamar Odom's birthday and she wanted to text him.
But Khloe sadly tells her mom she had already tried to contact her troubled husband, only to find his phone was shut off.