Kardashian Trap: Kim, Kourtney & Khloe Katch Bad-Boy Scott In His Latest Lie – See The Sneak Peak!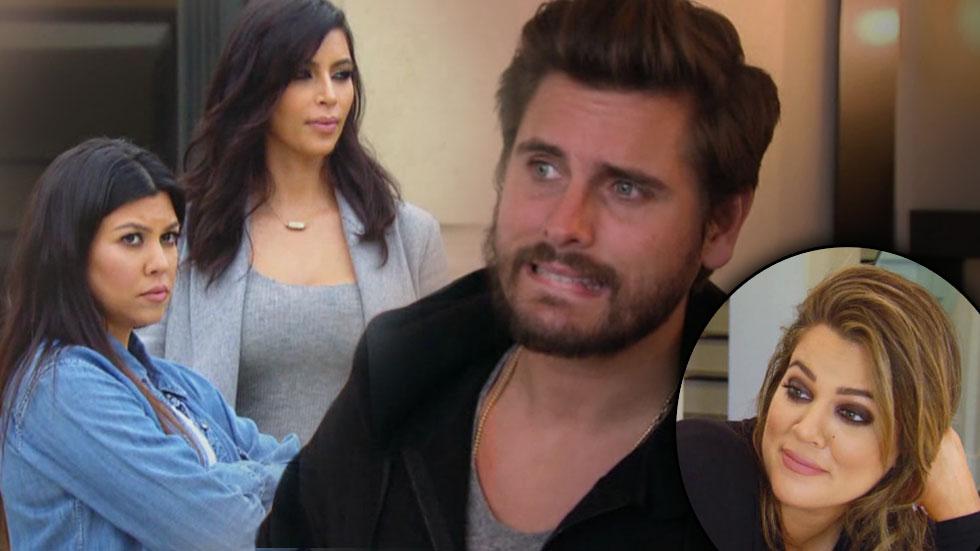 What has he gotten himself into this time? Get the scoop on this week's episode of Keeping Up With The Kardashians as the Kardashian girls sniff out Scott Disick's latest lie.
Kourtney's baby daddy always seems to be getting into trouble, but his sister-in-laws are catching on. In an all-new episode of KUWTK, Kim and Khloe put the heat on the bad-boy club promoter.
"Scott is so shady," Kim complains to her sisters in a preview featured on E!.
Article continues below advertisement
Khloe expresses her concern as well, asking Kourtney: "Do you ever think about what else he's not telling you?"
The reality star sisters are eager to "katch" Scott this time, because – as the teaser illustrates – he's not "getting away with it" this time.
Watch the Video on RadarOnline:
Scott has certainly struggled in recent months, attempting rehab and dealing with the stresses of a new (and third) child with Kourtney.
Just Monday morning, Scott posted a flyer for his upcoming club appearance at 1OAK in Las Vegas. According to insiders, the reality star actually ditched rehab to participate in the event.
Will Kourtney ever get the full truth from Scott? Tune in this Sunday at 9 PM EST to find out!
Check out what else the Kardashians are up to this week: