Exclusive
Excuses, Excuses! Scott Disick Ditches Rehab For Vegas Party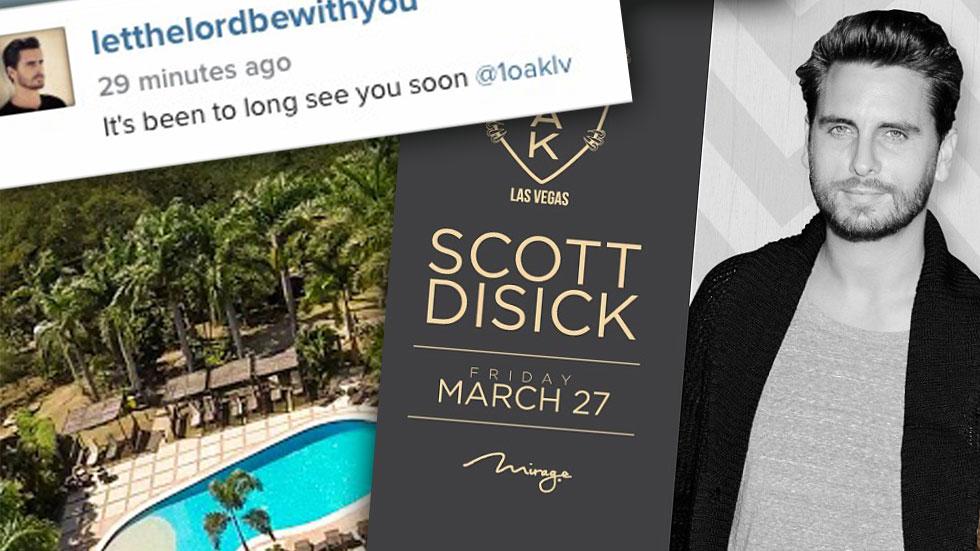 As RadarOnline.com exclusively reported, Scott Disick has said Adios to his luxury rehab in Costa Rica. And according to insiders, the "Lord" feels his work commitments are just too pressing to make his health and sobriety a priority." In fact, RadarOnline.com has learned, he'll be partying in Las Vegas this very weekend!
On Monday morning, Disick posted a flyer for his upcoming club appearance at 1OAK in Las Vegas:
Article continues below advertisement
"Scott says he has a very busy work schedule," an insider says of the failed restaurateur, who earns the majority of his income from boozy club appearances. "He doesn't think he has more than a week at a time to dedicate to treatment."
Though he's already been photographed on the nightlife scene since leaving Costa Rica's controversial Rythmia Life Advancement Center, insiders say the 31-year-old father of three will probably return in future weeks for further treatment, which as RadarOnline.com reported, includes ingesting a dangerous rainforest plant that causes hallucinations.
"He plans to go back when it's convenient for him," the source adds.
Many reputable treatment facilities require patients to check in for a consecutive 30 to 90 days, and utilize psychotherapy and 12-step programs for a comprehensive recovery. However, the insider says the Keeping Up With the Kardashians star isn't really interested in putting in the effort to live a clean and sober life.
"He's not taking this seriously at all," a source says of the party boy, who as RadarOnline.com reported, is getting paid to endorse the rehab. "He is just bragging to friends about his big paycheck."