No Sympathy! Kim Kardashian Calls Struggling Brother Rob 'Pathetic' In 'KUWTK' Sneak Peek — Did She Cross The Line?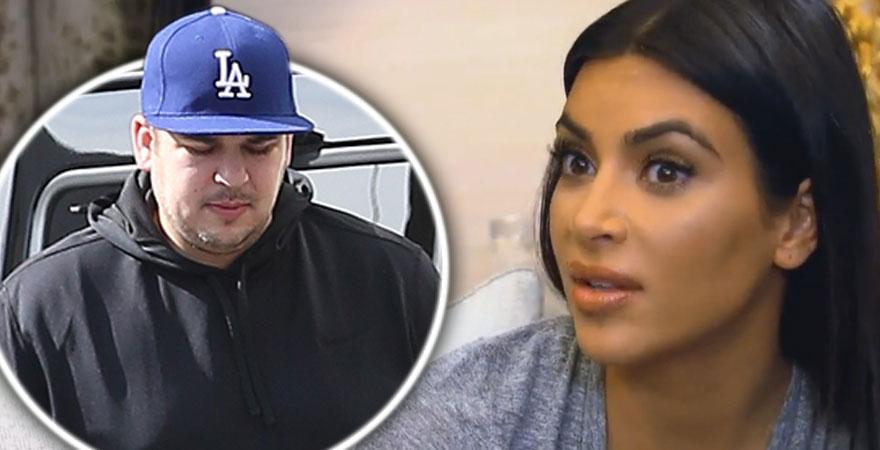 From weight issues to reports of depression, Rob Kardashian has had a rough year. But his sister Kim could care less! In an new clip for the upcoming episode of Keeping Up with the Kardashians, Kim tears apart her struggling brother and RadarOnline.com has the sneak peek.
Kris Jenner is trying to find a solution to help her only son recover from his recent bout of the blues in the clip, telling Kim, "I don't know how it works. I'm not a therapist, I'm not a doctor. But I do know that we've got all the resources in the world and yet he doesn't access."
Article continues below advertisement
But Kim lashes out.
"I think that now what we have to do is everyone back off. Everyone licks Rob's a** and does whatever he says," she fumes. "And at some point you have to give it up! We all make his life so easy. Ok we'll drive you around with a chauffeur so no one has to look at you. We had a chef on standby, a trainer. We'll send people to run out and buy you socks, underwear! This is pathetic!"
Saying that she's done, Kim stresses to her mom that they have to put up a united front.
"We're not going to cater to him anymore, but it has to be all of us."
However, Jenner isn't convinced that her son is responsible right now.
"The other way to look at it is he's got something that maybe he can't help himself," she says, but Kim dismisses her thoughts: "No, he's still competent to where he can ask for help when he needs it."
Do you think Kim crossed the line? Watch the clip and let us know:
Keeping Up With the Kardashians airs Sunday at 9/8c on E!