Exclusive
Low Blow! Kim Kardashian SLAMS Besieged Brother Rob – He's Nothing More Than An 'Extra' On 'KUWTK'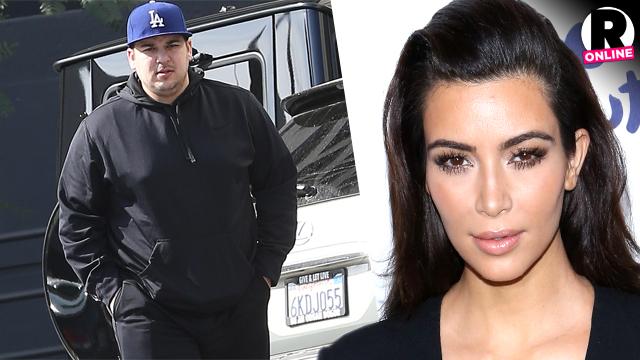 With the new season of Keeping Up with the Kardashians on air, friends of the family have asked why the only male Kardashian has had a reduced role so far this season.
According ton an insider, "Kim just calls him an 'extra' now."
The low blow has come on the heels of Rob's shocking Instagram message likening his sister to the psycho killer character Amy Dunne from Gone Girl: "This is my sister Kim, the b*tch from Gone Girl," Rob captioned the pic.
Article continues below advertisement
But their feud is nothing new.
"They've always been at war," added the source. "It all started when he split early from her wedding and they haven't really talked since."
Rob, 28, has been living in near reclusion since last May when he was spotted taking at early flight out of Europe before Kim and Kanye West even said their "I do's."
As RadarOnline.com has reported, the struggling sock designer has felt under pressure because of his weight issues and Kim playing "puppet master" in the family's business decisions, which often don't include him.
"He's pissed off that he makes no money from the Kardashians show," said the source. "They're making hundreds of millions and he's left out."
It wasn't always this way.
"Kim and Rob used to be the closest and then she becomes hugely famous and leaves her brother in dust with nothing," the source said.
But sadly, the tensions are likely to continue … for now.
In the face of Rob's obvious struggles, "Kim doesn't care," the source said. "She's dismissive of him. She's been surrounded by handlers. She's impenetrable. She doesn't even answer her own phone. Imagine if that was your sister or brother!"