Rob Kardashian Slams 'Haters' For Criticizing His Weight In Throwback Instagram Post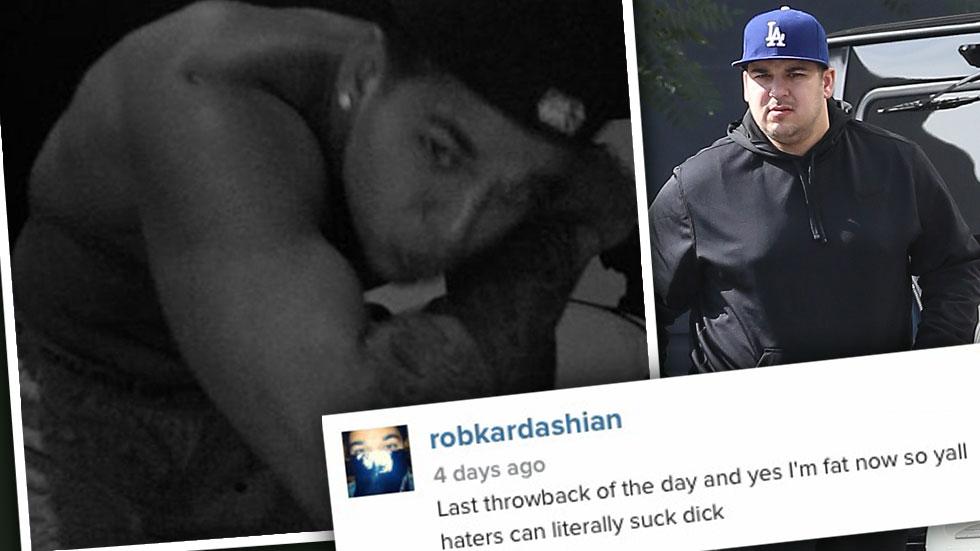 No more Mr. Nice Guy!
Rob Kardashian blasted 'haters' for judging his weight issues in a short and not-so-sweet Instagram post.
The past few years have been tough for Rob. From weight gain to a lackluster love life, this Kardashian hasn't been soaking in the limelight sun as much as his sisters -- or at all, really.
"Rob, has been depressed for over a year now and it's affecting him physically, mentally and emotionally," a Kardashian family source recently revealed to HollywoodLife. "He's been trying to drop about 50 pounds for a while now, unfortunately he just can't keep it off.
Article continues below advertisement
"His weight affects his mood and then his mood affects his motivation to eat well and work out. It's a vicious cycle. Rob knows he's overweight and the last thing he wants to hear is other people giving him a hard time about it. That's why he lashed out!"​
But all the fuss over his weight gain hasn't stopped Rob from enjoying the memory of his old physique – or giving critics a piece of his mind.
As a throwback, Rob posted an old picture of himself looking ripped on Instagram.
He captioned the snap: "Last throwback of the day and yes I'm fat now so yall haters can literally suck d*ck."
http://instagram.com/p/yvhEiQpWVO/?modal=true
Despite the hardship, Rob has received nothing but support from his family, especially from sister Khloe. According to reports, she wants "him to get help" for himself.
"Momager" Kris has also taken it upon herself to help him, even pressuring Rob to move back into her house!
We'll see what the future holds for the one male representative of Team Kardashian. Until then, keep channeling Taylor Swift mentality: "Haters gonna hate, hate hate, hate, hate."