Exclusive
Rob Kardashian Feeding His Sadness With Food, Booze & Xanax: He's Suppressed By All The Famous Women In His Family!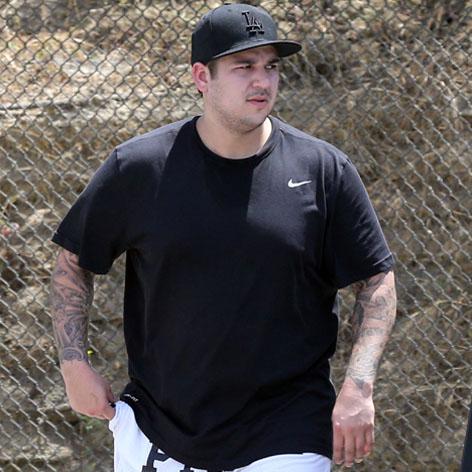 Being the lone man in a household full of independent, successful and famous women is taking it's toll on Rob Kardashian.
A close pal of the 27-year-old exclusively tells RadarOnline.com that Rob has been feeding his sadness and suppressing his emotions with food, alcohol and Xanax for his anxiety.
After dodging the cameras for weeks, Rob was finally photographed on Sunday at LAX flying out to sister Kim Kardashian's wedding overseas with his mom, Kris Jenner.
Article continues below advertisement
MORE ON:
Prescription Drugs
"Not to mention he's eating like crazy!"
Rob addressed his new larger than life physique on Tuesday.
"So i found out i was trending for being fat… thank you all it really made my day :)" he tweeted, undercutting reports he'd sought help to shed his girth.
"And to the blogs saying i went to fat camp or rehab LOL then why am i still fat u fools?? y'all must have run out of real news."
Regardless of Rob's jokes, his pals tell RadarOnline.com they're worried about his depression.
They Make How Much?! The 23 Highest-Paid Reality TV Stars
"He really hasn't found himself yet and it's pretty sad," the source added.
"First, i don't believe in rehab or therapy or anything of that sort and second I'm a grown man and will work on myself when i choose," Rob also tweeted.
"I'm aware that I'm fat that def aint a surprise to me lol and my only therapy will be in the gym anyways."
Calls to Rob's team for comment went unreturned.