Rob Kardashian: I'm A Grown Man And Will Work On Myself When I Choose'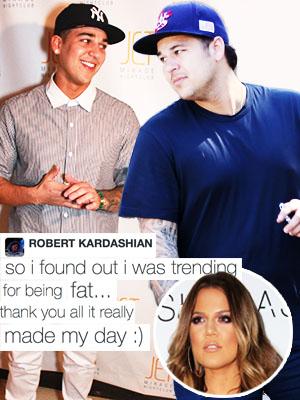 Rob Kardashian Tuesday lashed back at critics of his expanding waistline, making clear he's aware he's out-of-shape, and that he'll choose to address the issue when he wants to.
"So i found out i was trending for being fat... thank you all it really made my day :)" Kim Kardashian's younger brother tweeted Tuesday, undercutting reports he'd sought help to shed his girth. "And to the blogs saying i went to fat camp or rehab LOL then why am i still fat u fools?? y'all must have run out of real news."
Article continues below advertisement
The paunchy 27-year-old's close relationship with sister Khloé has been detailed on the family's array of E! reality series, so it was no surprise to see her coming to Rob's fierce defense.
"What shallow souls some of you are," his newly-fit older sister tweeted to his critics. "Its sickening to critique anyone off of their appearance. Grow up! You should be ashamed of your self.
"Your words are cutting deeper then you know and are possible leaving lifetime scars! Some of you people are disgusting for calling others names and picking on them."
Khloe's defense was not unrequited, as Rob chipped in, after her tirade, "i love you @khloekardashian."
While an overwhelming amount of the responses to Rob's tweets were positive and reassuring, a few users still replied to the tweet with weight-shaming sentiments, such as @FrannyHilson, who wrote to Rob, "stop eating … fat and ugly eat my a**," while user @fancyc*nty wrote, "lose weight u fat whale!"