Can Lamar Save Rob? Odom & Kardashian Reconnect As Rob Struggles With Weight Gain, 'Depression'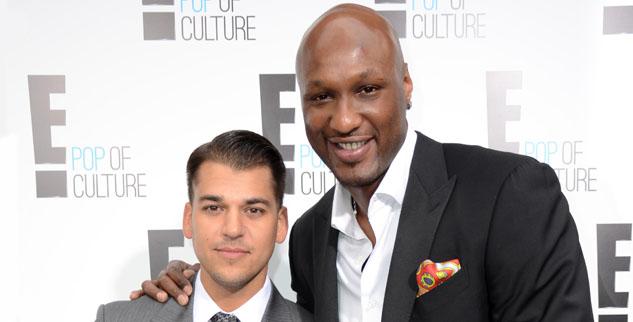 "No one will ever understand how much it hurts," Rob Kardashian wrote on Twitter earlier this week. But as the Keeping Up with the Kardashians star navigates his obvious personal turmoil, RadarOnline.com has learned that he's found an unlikely ally who does have some insight into the kind of pressures he faces: his sister Khloé's estranged husband, Lamar Odom!
Rob has been MIA as his family vacations in Phuket, and an insider tells RadarOnline.com he "has completely retreated from the family, and from his friends. But within the last few weeks, Rob has reconnected with Lamar."
Article continues below advertisement
"It was extremely hard for Rob when Lamar and Khloe split," the source continues, "because first and foremost, he hated what it did to Khloé. The split also essentially had ended Rob and Lamar's relationship....they called each other brother, and meant it. There was a lot of love there."
Since Khloé and Odom recently reconnected themselves, "Lamar asked her if it was ok if he reached out to Rob, and of course, she said yes," the source reveals. "No matter what happens with them in the future as a couple, Khloé wants her brother and Lamar to maintain their friendship."
As RadarOnline.com previously reported, the self-conscious sock salesman — who stayed home for the scantily-clad Thai vacation the family is currently on — "is upset about his changing shape and truly feels like the black sheep of the family."
One source claimed that the TV personality might feel a bit left behind as Kim's star has soared into the stratosphere, taking its toll on the once-close bond the siblings shared.
Article continues below advertisement
"The reality of their situation is that Kim and Rob haven't been that close in years," the source said. "Deep down, she thinks he is a total slacker and it's very hurtful to Rob."
As fans of the show know, Rob's mom, Kris Jenner consulted a shrink over what she called his "depression" on an episode of the show last year.
But now, the source says, Odom is on his side. He has even offered to "fly Rob to New York City so they can hang out," the source claims, but "Rob just isn't receptive to that. It has come to the point that he just hates going out because of the constant cameras always around. Lamar is planning to come to LA in the next month, and they will definitely hang out then."