Sibling Meltdown! Khloe Kardashian Breaks Down In Tears Over Rob's Refusal To Get Help, See Their Heated Phone Call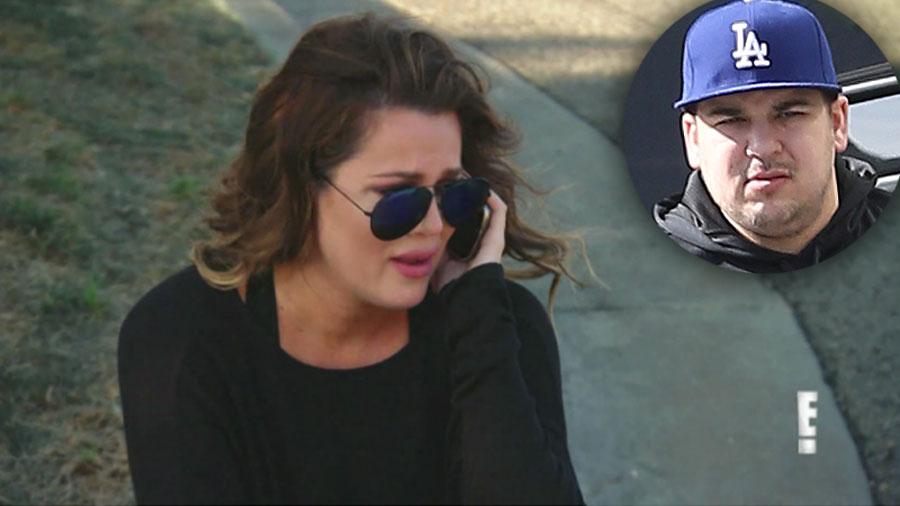 Can Khloe convince Rob to accept help from the family? Emotions run high in this week's upcoming episode of Keeping Up With The Kardashians when Khloe attempts to knock some sense into her brother.
After momager Kris expresses her worry over Rob – along with an attempt at an intervention – Khloe agrees that something should be done about the situation.
Unfortunately, Rob continues to resist her assistance. In an emotional phone call, the siblings have it out over his inability to accept help.
Article continues below advertisement
Watch the Video on RadarOnline:
Khloe may be Rob's only ally at this point, especially considering his ongoing feud with sister Kim.
The mother-of-one strongly expresses her opinion of Rob's behavior in another sneak peek clip, calling it "pathetic."
"I think that now what we have to do is everyone back off," she told Kris and Khloe. "Everyone licks Rob's a** and does whatever he says," she fumes. "And at some point you have to give it up! We all make his life so easy. Ok we'll drive you around with a chauffeur so no one has to look at you. We had a chef on standby, a trainer. We'll send people to run out and buy you socks, underwear!"
Saying that she's done, Kim stresses to her mom that they have to put up a united front.
"We're not going to cater to him anymore, but it has to be all of us."
Will Khloe succeed in convincing Rob to get the help he needs? Tune in this Sunday at 9 PM EST on E!