Love Or Money?: Kandi Admits Sex Life With Husband Todd 'Went Downhill'; He Blames Prenup Battle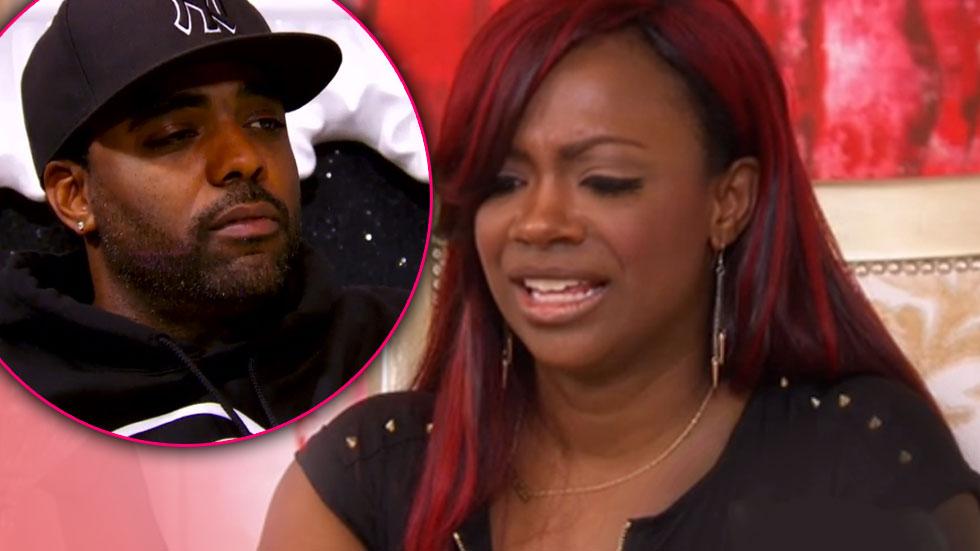 Kandi Burruss claimed her sex life with husband Todd Tucker hit the skids after just six months of marriage. And on Sunday night's episode of The Real Housewives of Atlanta, viewers learned what caused the rift between them.
According to Tucker, he's never recovered from Burruss' demand that he sign a prenuptial agreement.
During the episode, Burruss and Tucker attended marriage counseling with Dr. Sherry Blake—but in a bad omen, the music mogul admitted the therapist had previously advised Porsha Williams and her then-husband Kordell Stewart (they later divorced).
Article continues below advertisement
But Burruss forged ahead and admitted to the shrink, "We need help adjusting to being married."
Tucker noted that they'd been apart most of the six months of their marriage due to his TV producing travel schedule.
"We never even had a real honeymoon," Burruss told Dr. Blake.
And when the counselor said Tucker seemed depressed, he dropped a bomb, confessing, "There was a lot of change with the prenup.
"It was just how it was dealt with. It was real dry. It was like she had no feelings," he recalled in front of Burruss.
As RadarOnline.com previously reported, the prenup was a huge sticking point between the two during last year's RHOA spinoff, Kandi's Wedding.
At the last minute, Tucker finally signed the document that protected Burruss' assets and the couple tied the knot.
Tucker always insisted that he didn't want Burruss' money—but did object to other issues in the prenup, including a clause that said if they split, Tucker would have to vacate Burruss' home in just 30 days.
Article continues below advertisement
On Sunday's episode, Tucker seemed to still be smarting from the embarrassing ordeal, telling the cameras, "There were definitely things that were said that made me feel like, 'Wow, is that how you feel about me?'"
Burruss told Dr. Blake as Tucker looked on, "We weren't getting married that day if we did not have a prenup…I did not mean to hurt his feelings."
Tucker said he was now fine with the prenup, but Dr. Blake didn't believe him, saying it obviously had an impact on the first six months of their marriage.
Burruss then blurted, "The sex life went downhill"—and Tucker agreed!
Dr. Blake was aghast and as RadarOnline.com previously previewed, Burruss wondered if he'd been cheating on her while he was in L.A.
"What's up?" she asked her husband, who didn't answer.
But Tucker denied he was losing interest, pointing out that Burruss turned him down one morning when he tried to initiate sex.
The therapist suggested a date night without phones or social media—and that they both write a list of the pros and cons of their relationship.
MORE ON:
The Real Housewives of Atlanta
Article continues below advertisement
Burruss vowed as the session concluded, "I'm going to do whatever it takes to save my marriage."
Also on the episode, Phaedra Parks was dealing with the aftermath of a housewives' dinner in which Cynthia Bailey brought up Parks' alleged affair with an African man named Mr. Chocolate.
As RadarOnline.com readers know, before he went to prison for bank fraud and identity theft, Parks' husband Apollo Nida had accused her of cheating on him.
On last week's episode, Parks had stormed out after hearing the accusation—and almost hitting Kenya Moore with her purse.
Watch Video On RadarOnline.com
"I've had about enough of this silly Chocolate business," Parks, who has staunchly denied cheating on Nida, sniffed to the cameras.
She had lunch with Williams and they discussed how Burruss hadn't rushed to Parks' side after the incident.
Williams thought the fact that Burruss' husband Tucker was friends with Nida might have muddied the waters and Parks admitted things were strained with her former BFF.
Article continues below advertisement
But more importantly, Parks felt Bailey owed her an apology and told the cameras, "She's very vindictive, backstabbing, two-faced. I'm going to leave that fool where I found her. We're done."
However, the wary legal eagle later met Bailey for lunch.
Bailey said she'd brought up Mr. Chocolate without malicious intent.
An outraged Parks countered, "For you to say I'm sleeping around with someone and having an affair…you obviously told your friend Kenya Moore.
"And you have made it into something that you did not fact-check."
Bailey shrugged that none of the housewives fact-checked: "We just talk."
But Parks didn't want to talk—instead, she stormed off, saying, "Let me just leave."
She added in confessional, "For me to get attacked again for something I did not do? Honey, this court is adjourned!"
Also on Sunday's episode, NeNe Leakes got the ladies together at a restaurant to talk things over, but to avoid fighting, she didn't invite Moore and Parks.
Leakes told them they should go for group counseling.
It was the last thing Burruss wanted to do as she was already getting marriage therapy.
"I don't feel like I need to come," Burruss told Leakes.
Leakes and Williams informed The Kandi Factory owner that she had issues to work out with Parks.
When Leakes asked her if she believed Nida should be able to get visits from his and Parks' young sons while he was in prison, Burruss admitted, "Well, I do. But just because our opinions differ, that doesn't mean I don't love her."