I Now Pronounce Your Prenup Complete! RHOA's Kandi Burruss' Fiancée Todd Tucker Signs Document At Last-Minute, While The Bride Is Tardy To The Wedding!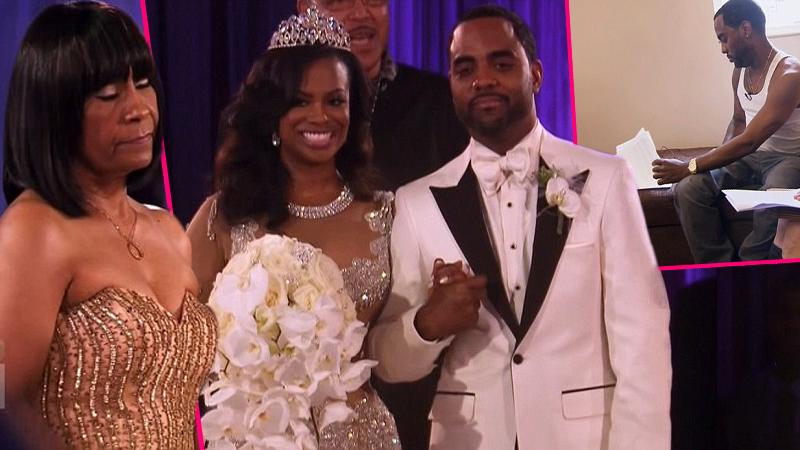 Article continues below advertisement
First, Tucker gave her a call and emphasized, "The whole time I told you, 'I do not want your money.'"
But he did object to other issues — in particular, a clause in the prenup that said if they split, Tucker would have to vacate Burruss' home in just 30 days.
"This prenup is some bullsh*t," he told the cameras. "I feel like I'm talking to Mama Joyce right now," he added, referring to the mother of his fiancé who has made it very clear she wished Burruss would NOT marry Tucker.
In a subsequent scene, Joyce asked her daughter what was wrong and she admitted quarreling with Tucker. Mama Joyce told the cameras, "He's looking for a payday!"
"Under no conditions does she get married without signing that prenup," Mama Joyce growled to her ex-husband and Burruss' dad, Pastor Titus Burruss, who was set to perform the ceremony.
Tucker admitted to his buddies, "I can't live without her" and that he had sacrificed everything "to have the baddest b*tch in the game wearing my chain."
Article continues below advertisement
The TV producer decided to visit Burruss and fix the situation on the eve of the wedding. Tucker agreed to sign the prenup if she tweaked the 30-day rule and the clause that said he received nothing if she died during their marriage.
Meanwhile, Mama Joyce kept her usual bad attitude, calling the 4/4/14 wedding date "D Day" and telling the cameras that her daughter was too subservient to the "big headed Napoleon" Tucker.
Stephanie Casteel, Burruss' lawyer, got Tucker to sign the prenup and even made a video of him agreeing to the terms on camera.
Tucker gave up his rights to all alimony and community property, and signed on the dotted line.
"I proved once and for all I'm in this relationship because I love Kandi, not because I want her money," he said.
Later, however, there was more Mama Joyce drama as she told Kandi of Tucker's daughter Kaela, 18, who was in the wedding party, "I could care less about her."
Article continues below advertisement
Watch the video on RadarOnline.com
As Burruss got tearful, Kandi's daughter Riley, 11, saved the day by saying, "Please, stop" to Mama Joyce.
"It's the day of the wedding and it's too much to argue today," Riley told her granny.
Watch the video on RadarOnline.com
When Burruss saw her RHOA co-star and bridesmaid Phaedra Parks, the attorney crowed, "You gotta leave how you came if you gotta exit. That's gotta be done," giving Burruss the high five about the finished prenup.
Then the singer, known for her lateness on RHOA, was tardy to her own wedding — to the tune of 90 minutes!
Finally, Tucker walked down the aisle, followed by Mama Joyce. Burruss' RHOA co-stars and Cynthia Bailey were guests and Phaedra walked down the aisle as a bridesmaid, while Riley stumbled in her high heels. (NeNe Leakes and Kenya Moore were MIA, though Leakes did send pricey Hermès plates.)
Article continues below advertisement
African dancers signaled the entrance of the bride and then Pastor Burruss performed the traditional ceremony, even asking if anyone had any objections.
"Why in the hell is everyone looking at me? I'm not going to say nothing," Mama Joyce commented to the cameras.
So the couple exchanged "I do's" without incident, and Tucker slipped a diamond wedding ring on Burruss' finger.
Riley and Kaela came to the podium and both of them were given rings by their new step-parent.
"I love you like my daughter," Tucker told Riley.
Burruss and her new husband then shared a steamy French kiss!
During the picture taking ceremony, Mama Joyce looked stiff and she later admitted, "My smile wasn't working."
"Can you believe it, we're married?" Burruss, 38, said to Tucker.
"I am so in love with Todd," she told the cameras. "I'm on cloud nine right now."
Burruss' friend Fantasia made a toast, and then Mama Joyce was encouraged to say something.
"Todd, I hope you continue to make her happy as she is tonight," Mama Joyce said with a little bow. Everyone applauded with relief.
"We've been through a lot," Tucker told the cameras as Kandi's Wedding concluded.