Exclusive
Kandi Burruss' Wild Bachelorette Party: All The Details Of The Two-Part Shindig, Including Strippers And Sex Games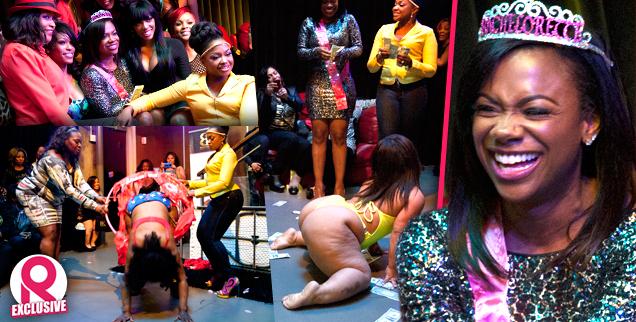 Article continues below advertisement
"The party was a two-part party and we had our entertainment and our fun and games," Parks told RadarOnline.com. "A lot of the games were centered around Kandi's product line, 'Bedroom Kandi,' so there were some very risqué games."
One game involved granny panties.
"They played some funny games with panties: trying on panties and getting out of panties," Parks said. "It was how fast you can get out of them. Everyone played that game. It was hilarious."
Another game gaged the size of each partygoer's mouth.
"It was a bunch of games of 'How big is your mouth?'" Parks said.
Burruss also had some special entertainment in the form of female strippers.
"They wanted to do something different, so I found a lot of fun, fetish ladies who really embodied the wild side of every woman," Parks said. "They didn't want guys; they wanted just very interesting ladies. So we had a little person and we had a very big person."
Article continues below advertisement
Article continues below advertisement
Guests were treated to an open bar and a wide selection of hors d'oeuvres including "shrimp, sliders, a salmon pate, a garden salad, and a radicchio leaf with goat cheese," Parks said. "They were great hors d'oeuvres."
After the first part of the party ended, a smaller group of about 10 people headed to Compound, a hot club in Atlanta.
"We had a private area there and bottle service," Parks said. "I think Kandi may have even enjoyed a glass of champagne there."
Article continues below advertisement