Kandi's Wedding: More Mama Joyce Drama! Kandi Burruss' Dad Titus Claims Mama Joyce Kept Him From Seeing Kandi Grow Up With Restraining Order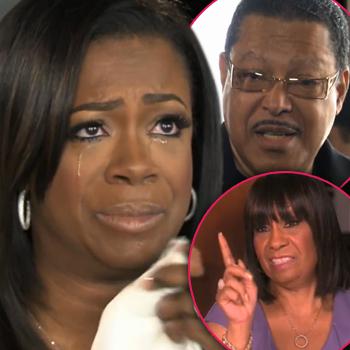 While Kandi Burruss was planning the mother of all Bravo weddings, an elaborate Coming to America-themed ceremony, her own Mama Joyce, as usual, was at the center of the drama.
And Sunday night's second episode of The Real Housewives of Atlanta spinoff, Kandi's Wedding showed that Burruss' fiancé, Todd Tucker, wasn't the only man her Mama Joyce had a problem with!
In fact, she'd had a bitter divorce from Burruss' father, Pastor Titus Burruss, whom she accused of cheating.
Article continues below advertisement
Emotions spilled over during Kandi's lunch with her dad.
Burruss had decided that Mama Joyce would walk her down the aisle, while Titus would be the officiant.
The reality TV star recalled her parents got divorced when she was four and "sometimes I didn't see him for a year or so.
"Now my dad makes an effort to try to mend the relationship."
Titus claimed that the start of his marriage to Mama Joyce was "beautiful" until her meddling sisters, Kandi's aunts Nora and Bertha, started interfering and "smoking and drinking and all this stuff in our home."
But Burruss sighed, "She says you cheated, dad."
Titus replied, "That was a lie."
Instead, he charged that Mama Joyce's sisters had changed the locks on his house!
Burruss, 38, cried to her dad about how he didn't spend time with her when she was young, but Titus explained, "I had a restraining order put on me so I that couldn't come around."
The singer concluded they couldn't change the past, and asked Titus to officiate at her wedding — an offer he eagerly accepted.
Article continues below advertisement
Incredibly, he also predicted Mama Joyce would come around to Burruss marrying Tucker: "I think all the love will overwhelm her," he laughed.
Later, Burruss had a heart-to-heart with Tucker and she admitted Mama Joyce had called his dad a pimp!
"I didn't really know my dad. He passed when I was 3," he told the cameras.
But Kandi wouldn't tell Tucker the rest of it — that Mama Joyce had called his mother a prostitute!
Tucker warned her about Mama Joyce ruining the wedding.
Later, Burruss' dad Titus joined Tucker as he tried on a wedding suit.
Tucker asked him, "How can I get through to Mama Joyce?"
"Joyce is hurting herself; she's cutting her own throat," the Pastor said.
Meanwhile, Burruss told her Mama about her talk with Titus and his claim that she'd put a restraining order on him; naturally, Mama Joyce called him a liar.
Article continues below advertisement
"I would never take out a restraining order against him," she told the cameras. "I wanted him to be a father. But the only time Kandi ever saw him was when he was about to get married again."
Mama Joyce said their marriage ended because "he was cheating."
Then Tucker met Phaedra Parks' husband Apollo Nida at the gym and asked him to be a groomsman.
"Did you guys do the prenup thing?" Tucker asked him, and former jailbird Nida (who is facing more charges) admitted he'd signed one with Parks.
"It was given to me, I just signed it. I was never out to get anything. At that time, I'd just came from prison," Nida said.
Tucker said he wasn't going to sign something without examining it!
Nida advised Tucker to voice his opinion to Burruss on the sensitive topic, and Tucker said he hadn't even received the document yet!
Later, Burruss, Mama Joyce, and Tucker had another one of their very uncomfortable conversations.
Article continues below advertisement
Watch the video on RadarOnline.com:
"Do I have to give you away? Can't I just sit down?" Mama Joyce said of Burruss' wedding request. "That's asking a lot. Let your daddy do it. He ain't never did nothing much in his life, other than getting me 300 dollars here and there."
Tucker, who has befriended Pastor Titus, was appalled and then challenged Mama Joyce about calling his own dad a pimp.
"You make stuff up … my dad died 37 years ago," Tucker said. "It's not true. It shows that you have no respect for me."
But Mama Joyce wouldn't back down and told the frustrated fiancé, "You can't control this," she said, pointing to herself. "I do what I want to do."
Meanwhile, Tucker said ominously, "I don't know if I want to go through with this wedding."