Cheating Housewife? Apollo Nida Claims Phaedra Was 'Having An Affair' In Hard Time Before Prison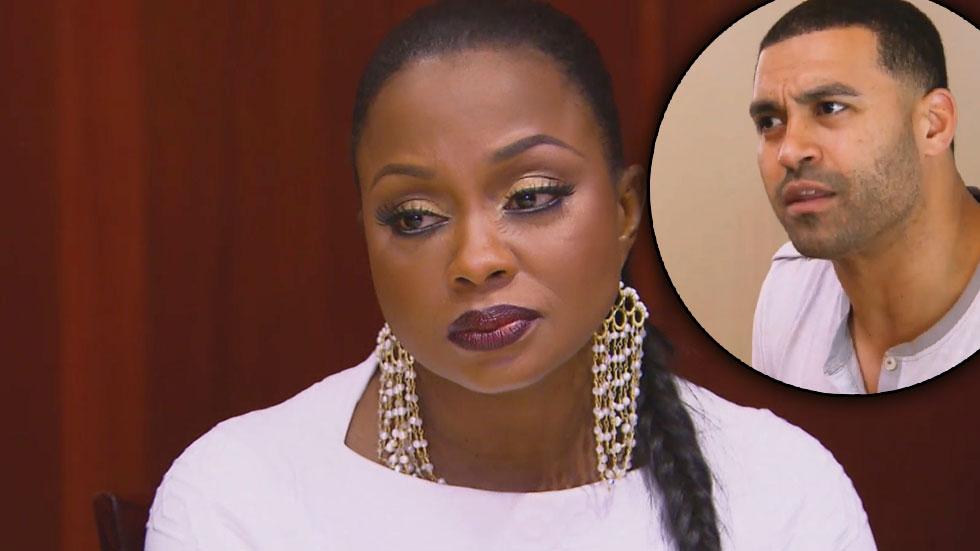 Things were heating up on Sunday night's episode of The Real Housewives of Atlanta! After husband Apollo Nida had allegedly threatened to burn their house down, it looked as though Phaedra Parks was preparing to flee.
But in a shocking preview for next week's episode, Nida accuses Parks of cheating on him, claiming that she had been "having an affair with some guy."
Rumors of infidelity surfaced last year, but Parks quickly laughed them off on the Ellen DeGeneres Show, calling the whole thing "absurd."
Article continues below advertisement
If that drama weren't enough, next week's episode will also include fallout with Parks' mother Pastor Regina.
Parks confides in her mother, sharing that Nida had been "threatening to burn down the house" and seemed "psychotic."
Alarmed, Regina tells Parks to leave the house with the couple's two young sons for their safety. But Parks won't budge, believing that Nida will "come to his right mind."
Unimpressed, Regina snaps: "Why?...His priorities are messed up. How much more does your eyes have to be opened to see that he's not concerned with these children…or with you?"
Although Parks wants to give Nida a chance to redeem himself, Pastor Regina suggests she take her family "out of the dangerous situation" because she doesn't want to "come in here one morning and see that everybody is dead."
PHOTOS :The 14 Most Outrageous 'Real Housewives Of Atlanta' Secrets & Scandals
Regina also points out that Nida has nothing to lose, just days away from serving his eight-year sentence for bank fraud and identity theft.
Article continues below advertisement
"What we need to do is get packed up and get on out of here," Parks' worried mother demands.
She adds: "Enough is enough."
Earlier, Parks had asked Dr. Gregory Lunceford for advice about telling sons Ayden, 4, and Dylan, 18 months, where their dad was going for the next eight years.
Dr. Lunceford suggested telling them Nida was in an adult "time out."
Parks wondered if she should take them to visit Nida in prison, hoping to protect her children to "crazy people."
MORE ON:
The Real Housewives of Atlanta
She added: "I don't ever want them to think going to jail is acceptable."
Soon after, Nida visits his divorce attorney Randy Kessler, who says it's good news Parks had not yet filed for divorce.
Nida tells the cameras he wants the kids to visit him in prison and know the truth: "The children still need to see their father…I'm not going to lie to my children."
Also on Sunday's episode, Kenya Moore pitches a TV sitcom based on her life to producer Roger Bobb.
Article continues below advertisement
Though he agrees to help with the idea of a show called Life Twirls On which might parody her reality show co-stars, later, Moore later complains that Bobb dropped the ball on the whole thing.
But the former Miss USA forges ahead with a different show idea, along with the help of her friend Brandon DeShazer.
Meanwhile, Porsha Williams and Claudia Jordan locks horns at Williams' Dish Nation party.
"I find it really tacky that Claudia would come to my event after what happened in Puerto Rico," Williams says about Jordan accusing her of sleeping with a married African man for bags, cars, and shoes.
Jordan admits she wants a cordial work environment as they both work for Rickey Smiley, but Williams calls Jordan's comments "unforgivable."
Behind Williams' back in confessional, Jordan calls her co-star fake from her "hair to her t*ts to her lifestyle."
Williams eventually walks away in a huff, repeating: "Don't be rude!"
RHOA fans also catch a glimpse of Kandi Burruss' pain after husband Todd Tucker tells her they'll have to cancel the tour for their play, A Mother's Love, due to underwhelming ticket sales.
She sobs for her employees who will soon be out of work, "People always expect me to come through."
Tune in for a new episode of RHOA Sunday nights at 8:00 PM EST on Bravo.