Claudia Jordan Accuses Porsha Williams Of Sleeping With A Married African Man 'For Bags, Cars And Shoes'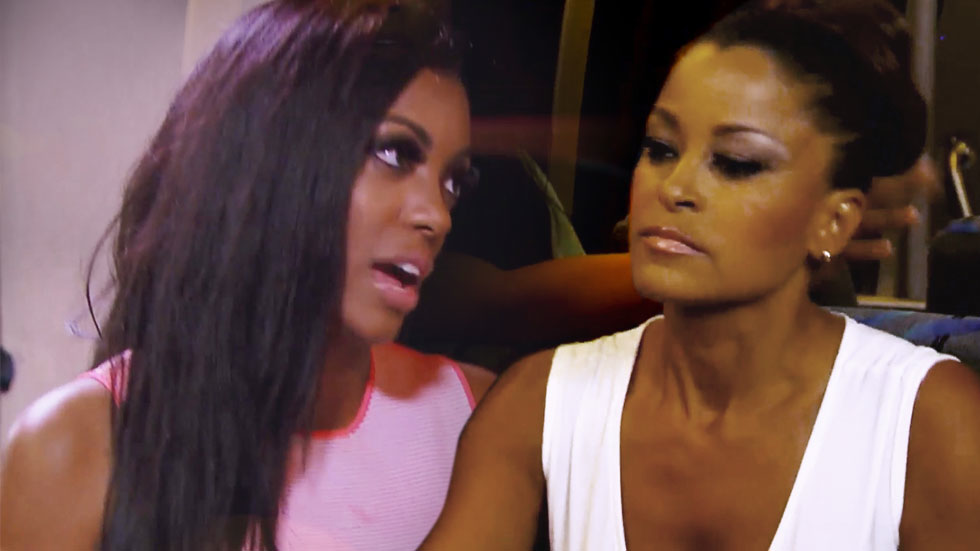 On Sunday's episode of The Real Housewives of Atlanta, Claudia Jordan took a pointed dig at co-star Porsha Williams, saying the beauty was sleeping with a wealthy married African man "for bags, cars and shoes."
Jordan, who's been involved in a bitter battle with NeNe Leakes received a surprising apology from the show's biggest star after she called her a wh*re and a "half-breed."
But as soon as the book was closed on that feud, a new feud erupted, when Williams intervened during the housewives' trip to Puerto Rico.
Article continues below advertisement
As Jordan complained to Leakes about how she was treated, Williams, 33, asked, "Why can't you just move on?"
Jordan said she didn't appreciate how Williams laughed when Leakes verbally unloaded on Jordan during last week's episode.
Jordan, 41, attacked Williams, saying of Porsha's mysterious boyfriend -- who reportedly gave her a Rolls Royce -- "I know for a fact that the guy that got you the car is a married African."
After a moment of stunned silence, Williams asked, "What are you talking about?"
Jordan told her, "We have a mutual friend, sweetheart."
The former Price is Right hostess then told the cameras, "It's funny because as much of a wh*re as I'm supposed to be, Porsha, we don't want to even get into all the times you've been to Africa and sleeping with married men for bags, cars, and shoes.
"I love a bag, I love a car, I love a shoe but dammit, I'm not going to put miles on my vagina to get it."
Article continues below advertisement
Jordan then told Leakes and the rest of the group she hadn't been sleeping around in Hollywood, as NeNe had earlier claimed.
Leakes said, "I apologize. I'm sorry. You're not a wh*re."
Then Williams' enemy Kenya Moore chimed in, saying, "The issue that she's having is, do you know that Porsha's Rolls Royce came from a married man?"
Williams warned Moore not to be slanderous with her comments or she might "catch a lawsuit."
"You can't pay for that car on your own," Moore snapped back.
However, Williams claimed the car was in her name and all paid for because she had her own hair company; Jordan laughed at her.
Williams said that Jordan was putting down her accomplishments, which Jordan had accused Leakes of doing to her earlier.
Williams, who has often been dissed for her lack of knowledge, fumed to Jordan, "You're such a contradictory."
Article continues below advertisement
Jordan sneered to the cameras that Williams had tried to use a big word -- and failed!
And was Jordan right to claim Williams -- who divorced football player husband Kordell Stewart in 2013 -- was a gold digger?
In an earlier scene, during which the gals visited a San Juan Cartier store, they gazed at jewelry worth thousands of dollars and Williams muttered, "I can work that out."
Later, when Kandi Burruss threw a new "Bedroom Kandi" party, the sex toy mogul asked Williams when they were going to meet her new beau.
"The distance is kind of getting to us; it's hard trying to deal with somebody out of town," sighed Williams.
Leakes told the cameras, "I don't know who Porsha is sleeping with at night. I just know that Porsha is able to date someone internationally and drive a nice car."
Williams confided to the group that she called herself names during sex.
Moore laughed in confessional, "I wonder what name Porsha likes to call herself in bed? I'm going to go with mistress, the other woman, you know, the usual side chick names."
Article continues below advertisement
Earlier, viewers saw Jordan and Leakes' fight continue from last week.
Leakes attacked Jordan's outfit and bob hairdo, while Jordan criticized the other housewife for eating too much and wearing a blonde helmet head that looked glued on.
Watch the video on RadarOnline.com
Burruss told the cameras that Jordan had said everything that everyone had ever wanted to say to Leakes.
Meanwhile, Leakes wondered to the cameras why Jordan was still unmarried at 41 and cackled insults about her rival to Burruss, Williams and Phaedra Parks.
As all the ladies rode on a bus to McKinney's concert, Leakes revealed she was playing the wicked stepmother in Cinderella on Broadway.
Jordan hailed Leakes for getting the big gig, but said Leakes didn't give HER credit for accomplishments.
Also, "I'm far from a wh*re," Jordan said.
Leakes told Jordan, "I don't want to talk about that part -- you said nasty things to me as well."
But she added, "If I take accolades from you, I apologize to you for that."
Meanwhile, fans also saw singer McKinney apologize to Parks for comments she'd made about Parks' jailbird husband, Apollo Nida.
The housewives wound up being late to McKinney's performance, but arrived in time for her big number.
"Demetria can blow. I am impressed," Parks said.