Kandi Burruss In Tears Over Todd Tucker Cheating Fears — Watch Her Breakdown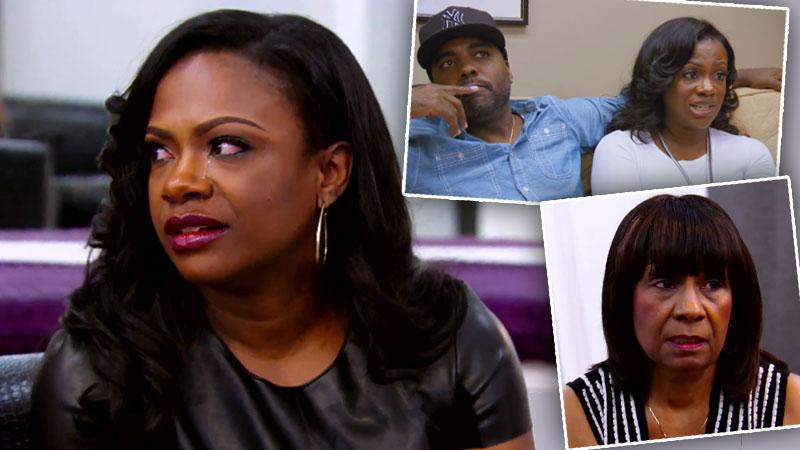 Could Mama Joyce's past warnings that Todd Tucker cheated on Kandi Burruss be true? In previews for the upcoming episode of The Real Housewives of Atlanta, Burruss breaks down over her fears — and pressure from her mom about her relationship with her husband.
In one clip, Burruss and Tucker head to counseling to discuss the troubles they have been having in their marriage and their lack of intimacy.
Article continues below advertisement
"If you're not emotionally connected, the disconnect would show up in the bedroom," the counselor tells the couple.
This leads Burruss to reveal her worst fear.
"I was like, 'Are you cheating out there in LA? Like what is going on?'" Burruss explains.
The counselor then in turn asks Tucker if he has "lost interest" in Burruss.
Sadly, the drama doesn't end there for Burruss.
During a sit-down with her mother, Burruss breaks down into tears as the pressure of all her problems becomes too overwhelming.
The conversation starts out with Mama Joyce — who has never been a fan of Tucker — asking if the couple is doing okay.
Burruss tries to downplay the question by saying that she and Tucker have arguments, but "are cool."
But Mama Joyce won't let it go, insisting that Burruss has changed and "doesn't come around the family" as much anymore.
"It's true that I really haven't spent a lot of time with my mom lately and that's because I've been having a lot of stressful things happening in my life and I'm just tired of the negative energy," Burruss says to the cameras.
MORE ON:
Real Housewives of Atlanta
Article continues below advertisement
"It's like you are so critical," Joyce tells Burruss.
This pushes her over the edge because she claims she has always felt like Mama Joyce has tried to bring down her relationship.
"Really?" Burruss replies. "Mama, it's so frustrating to me that you always seem to find fault in me and what I do. You never fess up to what you do wrong."
Then the truth behind the tears comes out.
"My mom does not know that Todd and I have gone to therapy," Burruss tells the cameras. "I definitely cannot talk to my mom about any problems I'm having with Todd because she would look at that as a celebration."
So Burruss tries to blame her stress on everything else.
"There is so much going on right now from my play getting canceled and I'm upset about that, me getting your house and then you ain't wanting to give me no key and acting funny about that," she tells Mama Joyce. "I'm stressing out about everything in my house because we are becoming a blended family. I have so many other things to be worried about."
Burruss concludes to the cameras: "It's just too much going on for me right now to be worried about my mom's feelings on top of everything else."