'Mr. Chocolate' Meltdown: Phaedra Parks Fights Rumors She Cheated On Apollo Nida -- And Almost Hits Kenya Moore!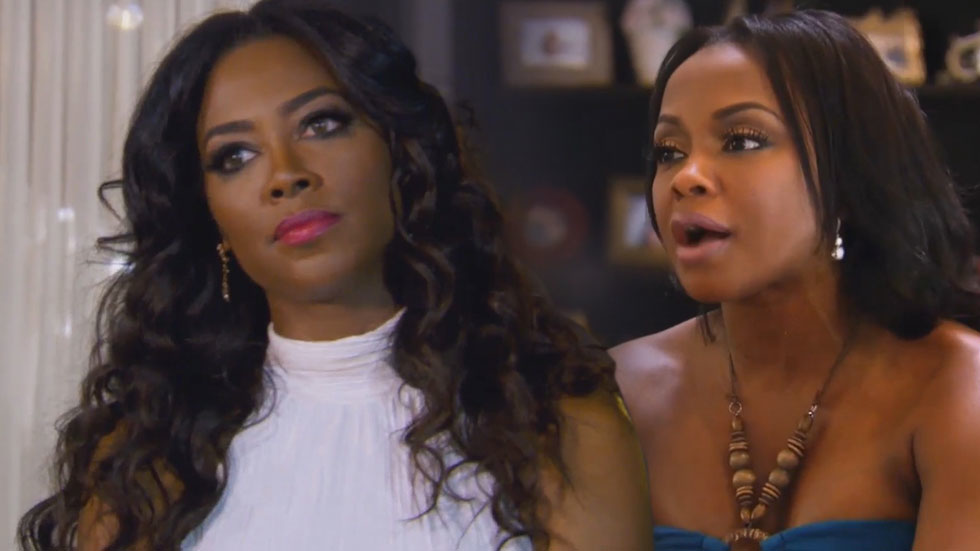 Phaedra Parks had a meltdown over cheating accusations after disgraced husband Apollo Nida went to prison on Sunday night's episode of The Real Housewives of Atlanta.
And while Parks had a minister perform an exorcism on their house, one evil thing she couldn't rid herself of was speculation that she'd cheated on Nida during his darkest days.
Parks, who has staunchly denied all infidelity allegations, had a meltdown and bolted a housewives' dinner after Kenya Moore accused her of two-timing the hunky felon, and the other housewives took sides.
Article continues below advertisement
As RadarOnline.com has previously reported, Nida had shown Cynthia Bailey's husband Peter Thomas sexy text messages Parks had allegedly sent to an African man known as "Mr. Chocolate."
At a dinner attended by all the women, Bailey said to Parks that Thomas "told me he found out you were dating some guy."
Parks scoffed at Nida's claims: "He was lying ... I work every day and take care of my kids."
Parks pointed out how Nida had fibbed about flirty text messages Moore had allegedly sent him, a story he later admitted wasn't true.
But Moore then attacked Parks, saying Mr. Chocolate was "the man that you've been having an affair with as a married ..."
At that point, Parks stood up and lunged at Moore, almost hitting her with her purse before Porsha Williams held her back.
"You just don't want the truth to be out about you!" Moore yelled.
Parks stormed out of the restaurant with Williams and NeNe Leakes following her.
"I will whip her a**," Parks vowed.
Article continues below advertisement
Meanwhile, Moore -- still fuming about how Parks had once assumed she had thrown herself at Nida -- vented to Bailey and Claudia Jordan.
"She's been exposed -- she's a liar," Moore charged. "Stop being a big-a**ed whore and calling everybody else a wh*re!"
Williams told the cameras Nida had tried to tear Parks down out of desperation, while Leakes dissed Bailey for bringing it up in the first place.
Outside, all the women convened and Bailey sighed about the "wh*re" label being thrown around.
MORE ON:
The Real Housewives of Atlanta
The episode ended with Leakes and Williams on Parks' side and Moore, Bailey, and Jordan doubting her. Kandi Burruss, previously a close friend of Parks, stayed neutral.
Earlier on Sunday's show, viewers saw Nida filming an Instagram video saying he was entering prison. As RadarOnline.com readers know, he was sentenced to eight years for bank fraud and identity theft.
When Nida was finally incarcerated, Parks left a hotel and returned home.
Article continues below advertisement
Parks decided to bring in an exorcist and the minister moved from room to room giving his blessing to eradicate "evil" in her house.
Three days after Nida had gone to prison, Burruss visited Parks and asked what had happened.
"He had become very scary those last days," Parks confided, recalling how Nida had threatened to burn the house down and punched holes in the wall.
Burruss was shocked to hear about Nida's threatening behavior, which fans had witnessed in RHOA's previous episode.
Parks said she felt a sense of resolution, and informed Burruss that Leakes had called her every day.
The legal eagle told the cameras while Leakes had been supportive, former BFF Burruss had NOT.
As RadarOnline.com previously previewed, Burruss had her own issue on the episode as she suggested marriage counseling to husband Todd Tucker.
"My main thing is not enough sex," Kandi complained to Tucker.
"Can we have sex more than once a week?"
Tucker agreed to go to therapy.