'RHOA' Rampage: Apollo Nida Threatens Phaedra Parks Before Reporting To Prison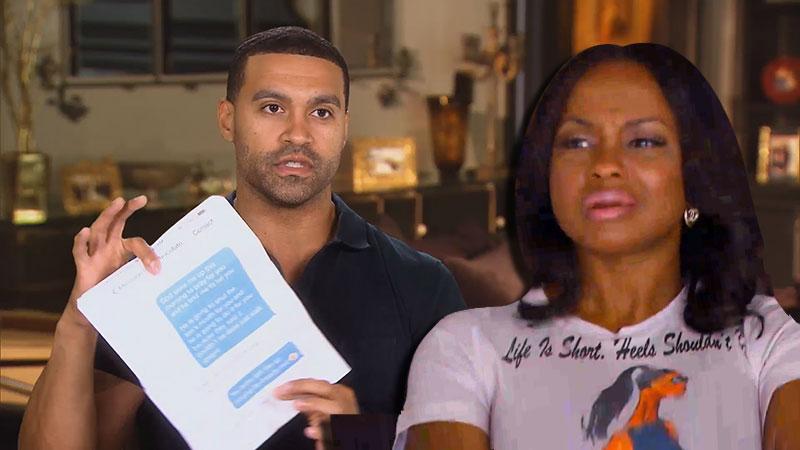 Article continues below advertisement
854283
Nida complained to pal Peter Thomas (Cynthia Bailey's husband) that Parks had written naughty text messages to the man telling him Nida would be in prison, such as, "This time next week, I'm off the plantation."
Also, "She says to him, 'Will you be my daddy?'" Nida groused to Peter, fuming that "people kill people over sh*t like this," and although Thomas warned him not to lose his head, Nida wondered to Bravo's cameras, "What if I just snapped?"
Article continues below advertisement
Watch the video on RadarOnline.com
The attorney assumed Nida was already in prison as she checked each room in the home to make sure he hadn't done any damage.
"It's been like 'Nightmare on Elm Street,'" Parks sighed to her assistant about Nida's erratic behavior.
She also had called in a locksmith to change the locks to the house, and a garage door repairman to change the codes.
"I'm glad it's coming to an end," she told her assistant about the ordeal. "I need to get some peace of mind and some rest."
But to her dismay, Nida suddenly roared up in his car, and predictably, hit the roof about her changing the locks.
"That is crazy! Why would you lock me out of my own house?" he shouted.
"You think we need to call the police?" Parks' assistant asked nervously, as Nida went on an expletive-laden rampage through the house.
"Not yet," Parks mumbled.
She then told the cameras he was supposed to be in custody several hours before, "But because it is Apollo, I'm not shocked he's on the lam.
Article continues below advertisement
"Luckily our children are with my mom, safe."
Nida accused her of the affair, commenting, "Your boyfriend has clothes here," as Parks told the cameras he'd lost his mind.
The legal eagle has previously denied to Ellen DeGeneres that she had an affair.
When Nida asked if she was going to call the police on him, Parks said she wouldn't.
After she explained to Nida she was changing the locks for her safety, he raged, "I built this whole mother*cking house! You want to talk sh*t to me?"
MORE ON:
The Real Housewives of Atlanta
Parks told Nida's friend Bun to come get him. When Bun told Parks he just wanted to see the kids, she claimed he'd already done so.
Nida then shouted about his prison situation, "I have 72 hours to report!"
In confessional, Parks explained that Nida had even botched his last conversation with son Ayden.
"Apollo saw our children last night for several hours and sent Ayden into hysterics and tears by telling him that he was going to prison and the police officers were going to take him away, and he made Ayden believe that they were going to kill him," Parks moaned.
Article continues below advertisement
Nida left in his car -- but then, drove back and shouted, "Stop f*cking playing me, Phaedra!"
He grabbed Parks' arm and she flinched, saying, "Please go away."
He whispered to her, "Do not call the police."
Nida warned her not to use his stuff, but Parks said she might not be there when he got out of prison.
Nida raged, "You're leaving me? You always left me! You left me for my sentencing, you left me when I was supposed to report!"
Article continues below advertisement
But Burruss was worried because he wanted to stay longer to party with his guy friends. When she returned alone to Atlanta, Burruss, who wants to have a baby, confided in her assistant Carmon Cambrice that her sex life with Tucker had already hit the skids.
"We may do it once a week," she shrugged. "It ain't my fault."
Burruss also told Carmon what little sex they had, she had to initiate.
In confessional, the singer commented that they weren't going to conceive having sex so infrequently.
"It seems like somebody's cheating," she told a shocked Carmon about Tucker, but then she sighed, "He claims that's not it."
Burruss thought they should have marriage counseling.
The Real Housewives of Atlanta airs Sundays at 8/7c on Bravo.