Radar Told You First: Chuck Lorre Takes Parting Shot At Charlie Sheen On 'Two And A Half Men' Finale, Explains Why Actor Didn't Make Cameo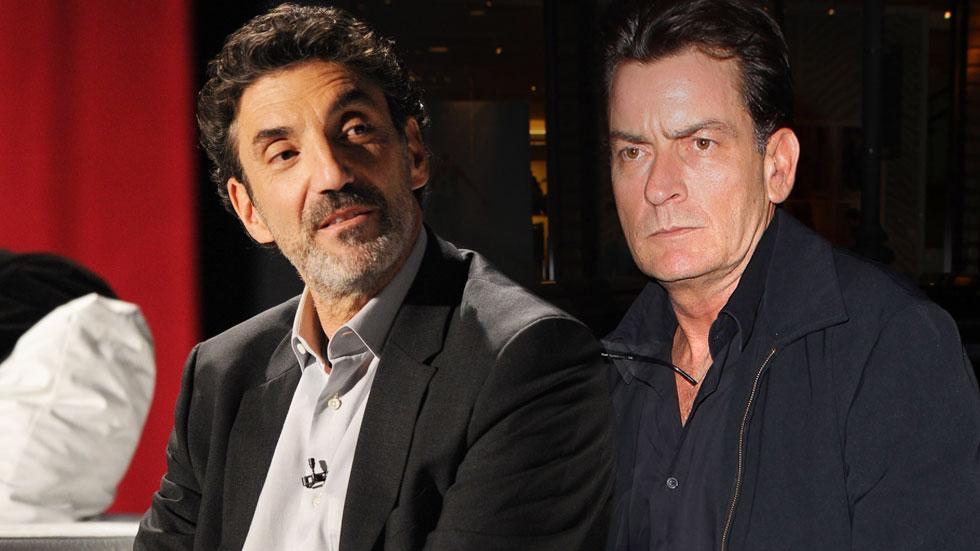 Chuck Lorre took a parting shot at Charlie Sheen as Two and a Half Men wrapped up its 12-year run Thursday, explaining why the actor didn't make a cameo on the finale.
As RadarOnline.com first reported, negotiations between the sides "just didn't go anywhere," as they "were unable to come to an agreement about how Charlie's return would be handled."
Lorre, on one of his vanity cards, confirmed that the actor "was offered a role" but ultimately passed due to creative differences.
Article continues below advertisement
Lorre, the mind behind The Big Bang Theory and Mike & Molly, said he wanted Sheen to appear in the series' final scene "and go off on a maniacal rant about the dangers of drug abuse," before delving into crazy talk reminiscent of his public meltdown during his falling out with the show four years ago.
"And then we would drop a piano on him," Lorre wrote. "We thought it was funny. He didn't."
Lorre said his former leading man "wanted us to write a heart warming scene that would set up his return to primetime TV in a new sitcom called The Harpers starring him and Jon Cryer.
"We thought that was funny too."
SPOILER ALERT: Contains Key Info About The Finale
As it was, the episode focused on how Sheen's character on the show, Charlie Harper was not actually killed four years ago, but kidnapped by a former lover. The last scene in the episode, the Charlie Harper (played by a body double that looked like Sheen from behind) approached his former home's front door and got a piano dropped on him. From there, the camera panned out to show Lorre gloating in a director's chair -- uttering, "Winning!" -- before he suffered the same falling piano fate a moment later. The episode also featured cameos from former cast member Angus T. Jones, as well as Arnold Schwarzenegger and Christian Slater.
Article continues below advertisement
While Sheen hadn't responded to the vanity card or final scene early Friday, after confirming earlier Thursday RadarOnline.com's exclusive that talks between the two sides broke down.
He cryptically wrote, "I go where the love is," before plugging an upcoming appearance on ABC's The Goldbergs.
The cold relationship between Sheen and Lorre seemed to have thawed as of late, with Lorre even crediting the actor for his contributions to the show, which at one time was television's top-rated program.
"It would be inappropriate not to acknowledge our success with Charlie," Lorre said last month, "and how grateful I am and we are."
In March 2011, RadarOnline.com was at the forefront of the Sheen-Lorre feud, including Sheen passing a drug test after CBS halted production of the series, citing the actor's "conduct and condition."
Sheen's memorable series of exchanges with RadarOnline.com famously resulted in a number of offbeat phrases still rattling around the pop culture lexicon, such as "Winning," "Tiger Blood" and "Vatican Assassin."