Ashton Kutcher Goes Naked On Two And A Half Men Premiere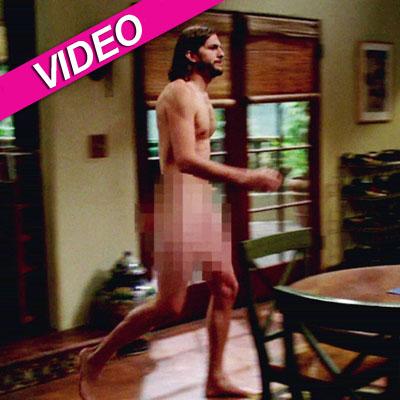 Well, one thing's for sure, Ashton Kutcher is certainly comfortable in his own skin -- literally.
Making his debut as the leading man on the ninth season premiere of Two and a Half Men Monday, Charlie Sheen's replacement left his clothes in the dressing room for long stretches of the highly-anticipated episode.
Huge ratings were anticipated on Monday, after the show's eighth season was cut short and shut down during Sheen's public fallout with executive producer/creator Chuck Lorre this past spring.
Article continues below advertisement
The show kicked off with a funeral for Sheen's fast-living alter ego Charlie Harper, playing off the vices of the character (and actor that played him) as a host of Harper's ex-girlfriends returned for his funeral, insulting his memory with a stream of sex jokes.
Harper's neighbor Rose, eulogizing the character, implied she murdered Harper after catching him cheating on her following their engagement in Paris, as he "slipped" on a subway platform and was hit by an oncoming train.
"I want you all to know that Charlie didn't suffer: His body just exploded like a balloon full of meat," she said.
Charlie Sheen: I'm Calmer, Clean & Sober
In another part of the episode -- and another likely dig at Sheen -- Harper's housekeeper lamented all he ever wanted was "clean sheets and hosing the vomit off the occasional drug-addled hooker."
Celebrity cameos on the episode included John Stamos (who was rumored to be a possible replacement for Sheen before Kutcher was cast); and Jenna Elfman and Thomas Gibson, stars of another mega-successful Lorre show, Dharma and Greg.
Article continues below advertisement
After Harper's ashes were delivered to Alan Harper (Jon Cryer), Kutcher made his grand entrance, causing Alan to drop the urn, with the ashes making a huge mess.
Watch the video on RadarOnline.com
Later on we learn his character is Walden Schmidt, an Internet billionaire who's depressed over a lost love; bought the house that Harper owned; and likes to walk around in the buff.
We'll see more (probably, a lot more) of the new cast when Two and a Half Men returns Monday at 9/8c.