Manly Men: Charlie Sheen & Ashton Kutcher Pose For Pic At Emmys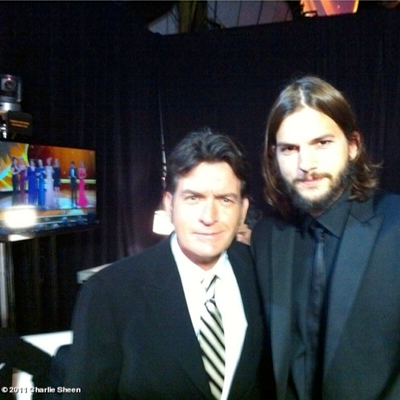 Here's one photo we didn't think we'd ever see -- especially so soon.
It's no hard feelings for Charlie Sheen, who not only sent well wishes for the cast and crew of Two and a Half Men at Sunday's Emmys, but snapped a backstage picture with his replacement on the show, Ashton Kutcher.
From his WhoSay account, Sheen uploaded a pic of he and Kutcher with the message, "Seriously... @aplusk great talking to you! We'll all be watching! Make us proud!!"
Article continues below advertisement
Kutcher tweeted back at him: "@charliesheen good to meet you too. Wishing you the best on your new gig."
Sheen, who was fired from the highest-paying job in TV history in March after a public feud with creator Chuck Lorre, presented the best lead comedy actor award at Sunday's ceremony.
There, he said to the show's cast and crew, "From the bottom of my heart, I wish you nothing but the best this upcoming season. We spent eight wonderful years together and I know you will continue to make great television."
Charlie Sheen: I'm Calmer, Clean & Sober
In his thorough Q&A with Today Show's Matt Lauer Friday, Sheen said getting fired from the top-rated CBS comedy wasn't what he expected. He added he'll be watching Monday's season premiere, as he's "really curious" as to how they killed off his character.
Two and a Half Men airs on CBS Monday at 9/8c, while Sheen's Comedy Central roast airs Monday at 10/9c.
RELATED STORIES: