'Almost Incomprehensible': Emotional Melissa Rivers Sues Manhattan Clinic Where Late Mother Joan Fell Ill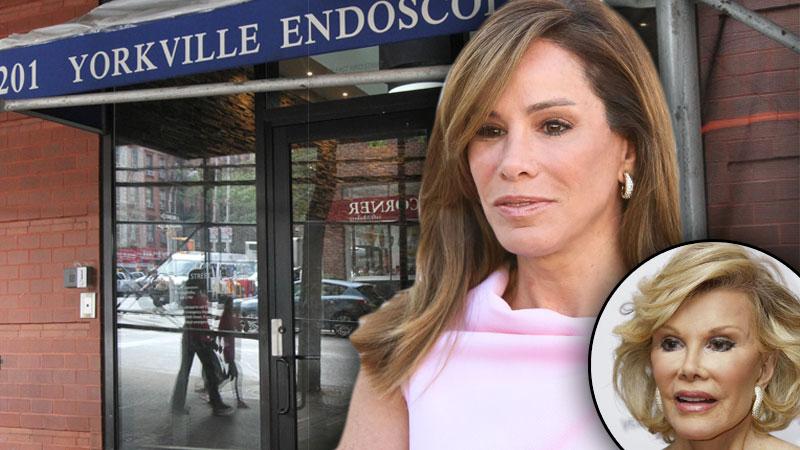 Article continues below advertisement
"The level of medical mismanagement, incompetency, disrespect and outrageous behavior is shocking and frankly, almost incomprehensible," Rivers said in her legal filing in Manhattan State Supreme Court, in which she's seeking unspecified damages for the events leading to her mother's Sept. 4 death at 81.
In the suit, Rivers claims that the presiding doctors performed an unauthorized laryngoscopy on her mother; and that an anesthesiologist's stated concern that it could hinder the Fashion Police star's breathing was brushed off by Dr. Lawrence Cohen, the since-resigned gastroenterologist in charge of the procedure. Korovin darted out of the room after performing the unauthorized medial procedures, Melissa said in the suit.
Watch the video on RadarOnline.com
Rivers' attorneys Jeffrey Bloom and Ben Rubinowitz cited a "lack of care and concern for Ms. Rivers on the part of her treating physicians and the endoscopy center where the treatment was rendered" as reason for the suit.
The grieving daughter said in court docs she decided to sue under the rationale "that no family should ever have to go through what my mother, her son Cooper and I have been through."
Article continues below advertisement
The clinic -- which is slated to lose its federal accreditation March 2 -- did not directly address the ongoing legal proceedings in a statement released Monday.
"The Rivers family has, as it has always had, our deepest sympathies and condolences," the clinic said. The 51 physicians, nurses and staff who currently work at Yorkville remain firmly committed to providing the highest quality of care to their patients."
Korovin, according to the NY Post, was spotted over the weekend at a birthday party in Times Square for Ariana Grande's brother Frankie Grande. Korovin, a doctor-to-the-stars, has the pop star as a client, as well as singer Celine Dion and acting great Joel Grey.