Joan Rivers' Death: Yorkville Endoscopy To Lose Federal Accreditation By End Of Month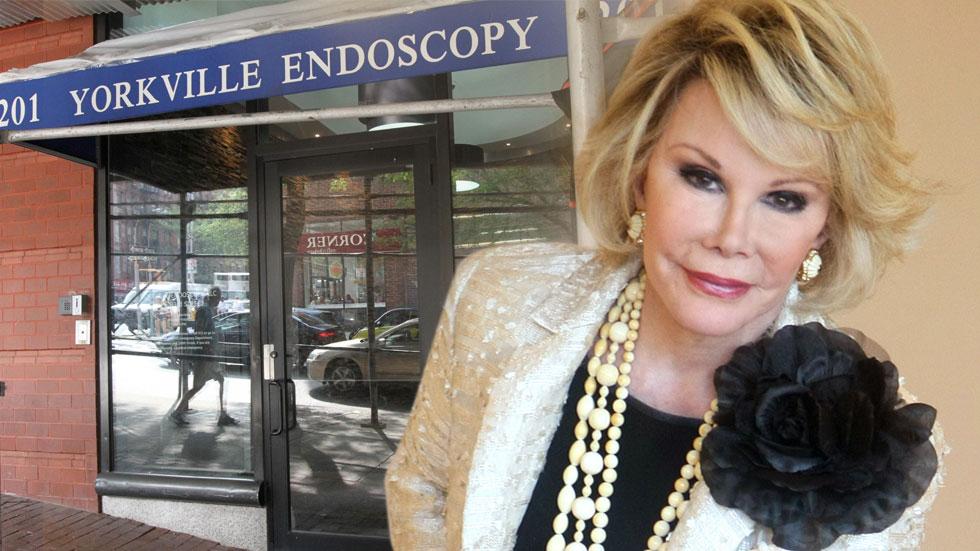 Yorkville Endoscopy, the Manhattan clinic where comedy legend Joan Rivers had a heart attack during an Aug. 28 vocal chord procedure -- leading to her death a week later -- will lose federal accreditation at the end of the month, WABC reported Monday.
The federally-run Centers for Medicare Services Monday said the clinic "no longer meets the Conditions for Coverage ... for a supplier of Ambulatory Surgical Center services.
Article continues below advertisement
"As of January 31, 2015 Yorkville Endoscopy will no longer be eligible to receive federal funds for services provided to Medicare and Medicaid beneficiaries."
Watch the video on RadarOnline.com
The clinic -- who earlier attempted to correct the issues working with the Department of Health and Human Services -- issued a statement following the crushing announcement, saying they're "continuing to work with all regulatory bodies" and "intend to communicate with CMS and appropriate authorities to have the decision reversed."
As RadarOnline.com previously reported, the doctors -- Dr. Lawrence Cohen and Dr. Gwen Korovin -- and clinic have both come under fire in the wake of Rivers' heart attack and death, with increased scrutiny on the practices employed during the procedure on Rivers, which included a previously-unplanned biopsy.
One report last month, citing details from insiders, blew the lid off glaring mistakes made in the comedy mainstay's treatment, including a 14-minute stretch in which Cohen and Korovin mistakenly focused their efforts on working on Rivers' larynx and trachea while the star's vital signs were failing.