Melissa Rivers Calls Herself An 'Orphan' In First Public Appearance Since Mother Joan's Death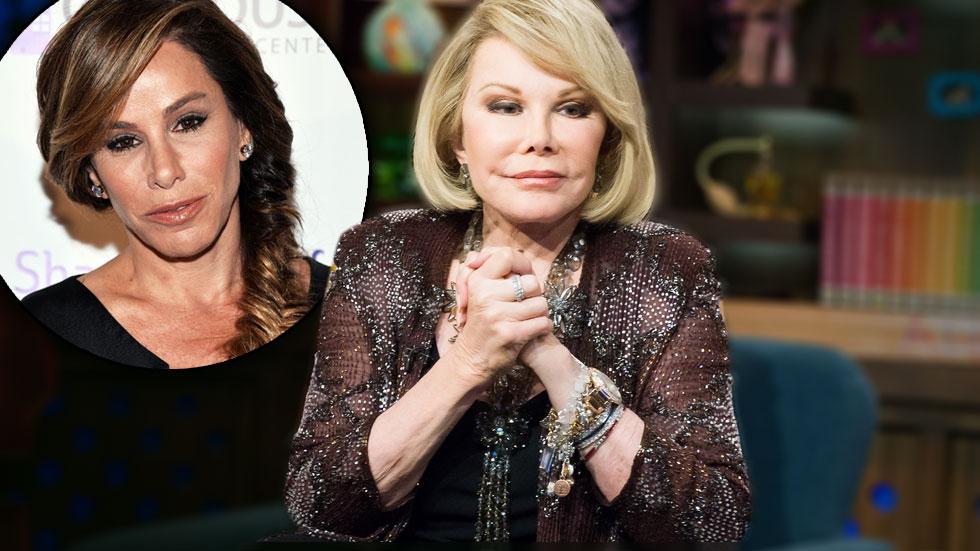 In her first public appearance since her mother's death three months ago, Melissa Rivers was candid about the pain she's going through since losing her mother Joan, saying that "the last three months and six days — not that I'm counting — have been different, to say the least."
The second-generation star spoke for seven minutes at The Hollywood Reporter's Women in Entertainment event at Milk Studios in Los Angeles Wednesday, which had big names in attendance such as Angelina Jolie, First Lady Michelle Obama, Sarah Silverman and Joan's Fashion Police co-star, Giuliana Rancic.
Article continues below advertisement
Melissa admitted she was "overwhelmed" after The Hollywood Reporter president Janice Min invited her to speak in front of the star-studded crowd, "not just because it is the first time I'm speaking in tribute to my mother, but because every single person in this room could hire me, and a few have actually fired me!
"You know who you are, but I don't want you to feel bad ... but technically I am now an orphan."
Melissa hailed her mother as a "brilliant performer" who "was fearless.
"She was willing to say what others were thinking and too frightened to admit," Melissa said. "She never apologized for a joke, and no topic was taboo, and she was fine with that."
Melissa, pointing out Joan's " trailblazer" status in the comedy industry, adding that Joan "never thought of herself as a woman working in a man's world," but rather "thought of herself as a comic, and had to be funnier than everyone else.
Article continues below advertisement
"She just wanted to do her job, and that was to make people laugh," she said.
Melissa, noting how Joan was called everything from a "legend" to a "b*tch," said that it was really difficult for her "to really think of her as any of those things because the bottom line is, she was just my mother."
She said that if her late mother could see the outpouring of love in the room on the day, "she'd not only be grateful and proud, she'd be beyond herself.