The Next Mrs. Stewart? Claudia Makes Play For Porsha's Football Player Ex-Husband Kordell Stewart In Bar Flirtation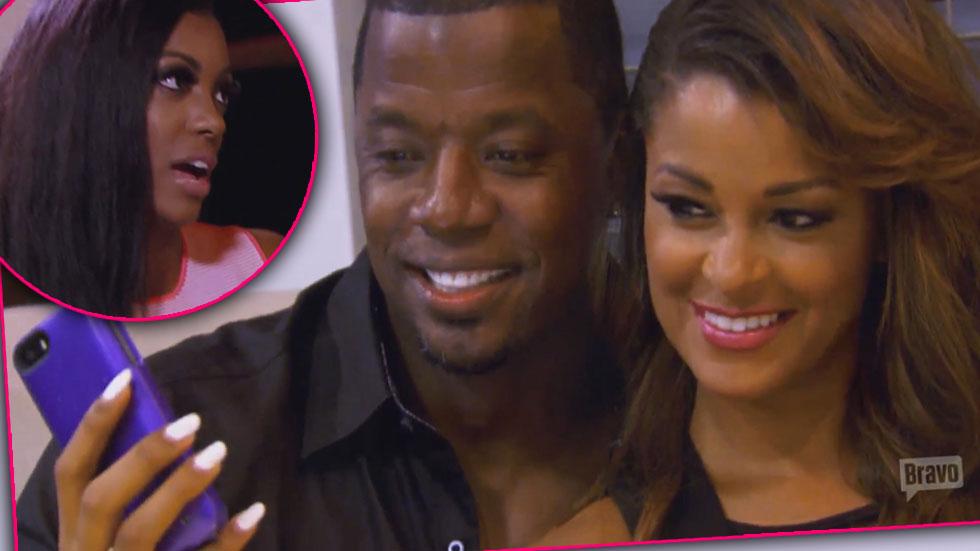 Article continues below advertisement
As RadarOnline readers know, Williams, 33, bizarrely threw gay innuendo at Stewart during their nasty divorce in 2013, even calling him a "queen." But Stewart, 42, has insisted he's 100 percent heterosexual.
And Sunday night, RHOA viewers saw now-single Stewart flirting up a storm with Williams' rival Jordan, 41, as the two mingled at Cynthia Bailey's husband Peter Thomas' party for his new bar, Sports One, in Charlotte, North Carolina.
Jordan said of Stewart, who is Thomas' partner in the business, "I've actually known him for years," but hadn't seen him in ages.
With other housewives looking on, Jordan reminded Stewart they'd met 15 years ago and said, "Kordell has always been the same – nice, classy guy."
The former Pittsburgh Steeler told the ladies he'd started dating again.
"Would you get married again?" Jordan asked, and Stewart said yes.
Article continues below advertisement
Jordan wondered if his divorce from Williams had soured him on marriage, but he denied that: "I made a choice to move forward…there's somebody out there."
Jordan's RHOA pal Kenya Moore said they seemed comfortable together and boldly asked, "Is there a date for you two in your future?"
Jordan sighed to the cameras, "Lady…I work with his ex!"
Meanwhile, Moore smiled in confessional, "He's single, she's single, hmm."
Jordan informed Stewart she saw Williams every day because they worked at the same radio and TV station.
And she told the cameras, "I've never been the kind of girl that would actively go after the ex of someone I'm in close proximity to."
Still, she added, "But we're not really friends, so I could if I wanted to. I just don't prefer it."
When the others excused themselves so that the two could talk, Jordan asked for Stewart's contact information and gave him hers, warning him not to call her late at night.
Article continues below advertisement
"I'm a stand-up guy," he claimed.
As they parted, Stewart kissed her on the cheek.
"When are you guys going out?" Moore probed once Jordan left Stewart and joined the others.
Although Jordan was noncommittal, Moore laughed in toasting her at the bar, "Here's to the next Mrs. Stewart!"
Also on the episode, newlyweds Kandi Burruss and her husband Todd Tucker, who are trying for a baby, went to see gynecologist Dr. Jackie Walters because the singer hadn't become pregnant even after being off birth control.
The doctor asked Tucker to give her a sperm specimen and advised him to wear boxers and limit his alcohol consumption.
Burruss, 38, later told the cameras that both of them were found to be fertile, and, as each has a daughter from a previous relationship, said they definitely wanted a boy.
But her daughter Riley, 11, told her "you're a little old" to have another baby.
The couple, however, planned to continue to try – and the music mogul showed her love by surprising Tucker with a white convertible Corvette for his birthday.
Article continues below advertisement
Also on the show, Phaedra Parks' told her mother, Pastor Regina, that her disgraced husband Apollo Nida finally had been given a date to report to prison.
As RadarOnline.com has reported, Nida has been in prison for months, but viewers went back in time to see Nida having a serious talk with their sons Ayden, 4, and Dylan, 18 months.
Nida, who was sentenced to eight years for bank fraud and identity theft, asked his oldest son as they enjoyed frozen yogurt, "When daddy's away from the house, how does it make you feel?"
"Bad," Ayden said.
"What if I couldn't come home right now?" Nida asked.
Adorable Ayden replied, "I'll come to visit you and I'll stay there forever."
Nida queried his son, "You love Daddy?"
"Yes!" Ayden exclaimed.
In confessional, Nida groaned, "I've been trying to adjust to the reality that I may not be able to see my children and it's a difficult pill to swallow. I feel helpless. It's almost like I'm in prison but I'm not in prison."
Article continues below advertisement
Nida told his son, "I want you to know that I love you."
"Yes! I knew it!" Ayden squealed.
"I'll always be here for you and Dylan, okay?" the jailbird said, then added emotionally to the cameras, "Ayden and Dylan, I'm sorry this happened. I'm sorry that I put myself in a position to be taken away from you but it's not forever. I'll be home soon and hopefully you can come see me."
Meanwhile, Parks told her mom, who has been her rock during her marital disaster, said, "It's always hard to see the rainbow when you're sitting in the storm."
Pastor Regina opined, "I know, but the storm is passing and the rainbow is on its way."