It's Getting Nastier! Star Porsha Stewart Calls Her Estranged Husband Kordell A 'Queen,' Then Drops Possible Hints About Domestic Abuse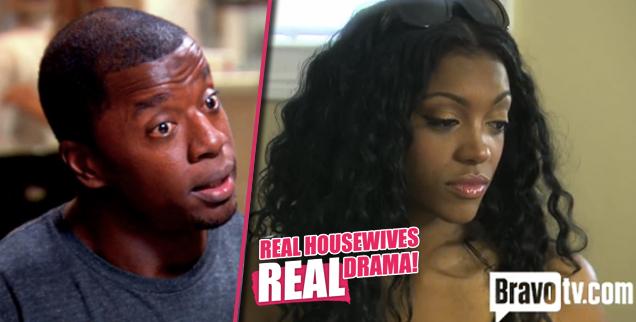 Porsha Stewart continued to brand her estranged husband Kordell Stewart as gay, calling him a "queen" -- and hinted he might have commit acts of domestic abuse during their troubled marriage -- on Sunday night's The Real Housewives of Atlanta.
Porsha's nasty divorce from her former football player husband once again took center stage, and when her co-star Kandi Burruss asked her, "He never beat you, did he?" the scorned wife shocked her friend by taking her time before answering.
Article continues below advertisement
Finally, Porsha said, "No," but then shrugged cryptically, "Everybody gets shook a little bit here and there."
She also told Kandi, "We had our issues and I don't think he would put his hands on me now. There's no reason for him to do anything like that."
But co-star Kandi remarked to the cameras, "The pause meant something … I don't know what it meant, but it didn't mean absolutely not!"
The disturbing conversation happened when Kandi visited Porsha at her mom Diane's house, where the reality star has been living since her split from Kordell.
Porsha showed Kandi how her ex had allegedly damaged her wedding reception dress, telling her, "That's why I'm afraid to just be around him by myself."
Kandi asked Porsha if she ever thought she could work things out with him.
"We were going through problems," Porsha said. "I was trying to mask it and hide it and think that we could fake it 'till we make it.
"As long as in the public eye, I'm like, we're good. We can kind of like mend what we're going through at the house. If he would have been like, 'Look, babe, I think we're at the end of our ropes, we need to separate,' I probably would have said, 'Okay, let's do that. Let's see how we both feel.' But finding out that he filed for divorce from frickin' Twitter?"
Article continues below advertisement
Kandi told the cameras, "I've seen guys like Kordell before: He truly wants to be loved, but sometimes when guys are angry, they lash out in a b***hy way."
But Porsha also admitted to Kandi, "For some crazy reason, I do still love him. I need closure. Right now it feels like somebody has died and you can't find their body so you don't have closure. Divorce feels like a death in the family."
She started to cry on Kandi's shoulder and admitted, "I'm just trying to be strong and it's so hard."
Earlier in the episode, Porsha had received a delivery of her things from Kordell.
She told sister Lauren that Kordell had bought her shoes.
"Kordell wanted to buy my shoes, buy my bags, buy my clothes. He wanted to choose how I looked, like his Barbie. And I thought it was just him being, what is it? Metrosexual," Porsha said, in another one of her eyebrow-raising implications.
To her horror, Porsha found her reception dress from their wedding torn up in the bottom of a box.
Article continues below advertisement
"What an a******!" she told her mom, as both concluded Kordell had damaged the dress.
"This is not something that a man would do," Porsha told the Bravo cameras.
"It's not something that a husband would do. It's something that a queen would do, who is being dramatic and he wants to let me know, woman to woman, that he doesn't give a damn about anything that we had together."
Porsha then sliced up Kordell's picture in their wedding album!
Also on Sunday's episode, Cynthia Bailey's husband Peter Thomas took her to the doctor to have delicate uterine fibroid surgery.
And as RadarOnline.com readers know, Cynthia's condition has resulted in some embarrassing flooding incidents!
"It's taken over my personal life, my business life," the beautiful model, 45, sighed to the cameras about her fibroids. "I'm completely nerved out."
Later, Cynthia was happy her surgery had gone well but, walking into her home afterwards, she said, "I feel like I've been hit by a train and a bus and a car."
Article continues below advertisement
She thanked Peter for taking such good care of her.
But Peter then took the opportunity to confront her about their lagging sex life!
"This is going to put us on the right track, right?" he asked. "You're not going to be grouchy and mean and upset all the time.
"You were mean to me. If you have sex with your husband once every two months, it's mean," the RHOA spouse declared.
Cynthia told him once a week was fine to have sex -- unless they won the Lotto and she didn't have to work anymore!
Meanwhile, Kandi, who is planning to marry her fiance, Todd Tucker, had a heart-to-heart talk with her manager, Don Juan, about how her mother worried he'll live off her.
Don surprised the music producer by admitting he had some of same concerns.
"I'm happy for you but what about my checks?" he asked bluntly.
"Todd does not affect your check," she insisted. "I've never been a person to let the team down."
Article continues below advertisement
Later, she spoke to her teen daughter, Riley, about the wedding.
Although Kandi's mother had raked Todd over the coals the week before, and even told the musician Riley didn't like him,the girl denied she ignored Todd like her grandma said.
What's more, she assured Kandi granny wasn't influencing her against Todd.
"My daughter has my back," Kandi told the cameras.
Riley thought once Kandi married Todd, they would stick together and her mother would have to come around to accepting their relationship.
Meanwhile, at NeNe Leakes' home, the reality star/actress was upset when her husband Gregg asked her to clean the house -- but she got even more down in the dumps when her manager called to say her recurring role as Coach Roz on Glee was being pushed back because of Cory Monteith's untimely death.
And NeNe was also sad that her other show, The New Normal, was cancelled.
But husband Gregg couldn't be happier.
Article continues below advertisement
"Remember the days you were a housewife?" Gregg said. "We're together!"
NeNe told him on no uncertain terms that she preferred working outside the home!
Also on the episode, Kenya Moore was happy to get out of the house she was renting from former friend Conya Dillon Weems, who had started eviction proceedings.
Along with her assistant, Kenya started twerking all over the house she was soon to vacate.
"When I need to relive some tension, I twerk!" Kenya revealed to the cameras.
Later, Kenya opened up a box in the house and found Conya's elaborate '80s style wedding dress.
Kenya put it on and walked down the stairs, a la Alexis Carrington on Dynasty.
"I'm still here!" Kenya shouted, mocking her landlord.
But no one was laughing when Kenya thought she had until 5 p.m. to leave the house -- while Conya believed the deadline was 3 p.m.
"Get your a** out," Conya shouted at Kenya, walking up the driveway. "This is a court order."
Watch the video on RadarOnline.com
Soon, Conya called 911 on the RHOA star and the cops showed up.
But the defiant former beauty queen, known for her Gone With the Wind fabulous style, said she would have no problem just twirling on out of there as the episode ended.