Exclusive
The Ultimate Red Carpet Disaster! Housewife Cynthia Bailey Reveals The MAJOR Personal Problem She Suffered At A-List Party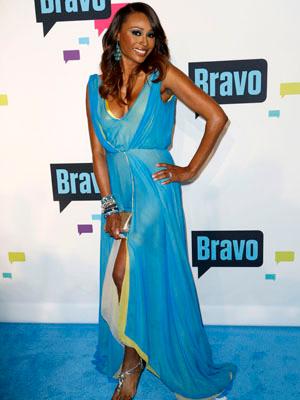 During the Nov. 10 episode of the Real Housewives of Atlanta, Cynthia Bailey went in for a medical procedure to treat her Fibroids — and during an exclusive interview with RadarOnline.com, Bailey reveals that her battle has caused her some pretty serious personal problems with her health.
"With fibroids, you have very heavy menstrual cycles," Bailey told Radar.
"So no matter what you do — I have my double duty protection on — but it's still not uncommon for me to leak through."
Article continues below advertisement
Unfortunately, an incident like this occurred to Bailey during a party.
"It's happened more than enough times and one of the last times, I was at a big Bravo event actually with a couple of other people in the cast," she said.
"We were having dinner and I just remember getting up and I just felt this whoosh go down. I just thought, 'Oh my god!'"
The situation was terrifying for Bailey.
"The one thing I thought about was, 'Will I make it to the room before this happens?'" she told Radar.
"And I didn't. People were like, 'What is going on?' There was like a blood trail to the room."
This event even upset her husband Peter Thomas.
"It was awful and Peter was mortified and embarrassed and was like, 'You've got to do something about this,'" she recalled. "My cycle was taking over two weeks out of every month for me."
But accidents weren't the only problems that came with Bailey's Fibroids.
Article continues below advertisement
"They got progressively worse to the point where I am severely anemic," she said. "And I looked 3-4 months pregnant."
This was a problem for Bailey, who owns a fashion and modeling school called The Bailey Agency School of Fashion.
"Being someone who comes from the fashion industry, you don't want to look pregnant if you're not," she revealed.
And during the time that Bailey was dealing with fibroids, the Internet was alive with rumors that she was expecting.
"At that point, I felt just really overwhelmed and I just wanted to say, 'No. This is what I have. I can't help it. There's a freaking tumor growing inside of me,'" she said.
"It was hurtful but I understood what they thought because when I look at the pictures, I do look easily 3-4 months pregnant."
So, after months of issues, Bailey decided to take care of her problem.
"I just had to take control of the situation and have something done about it," she told Radar.
Article continues below advertisement
"What they basically do is, the fibroid is in there growing, growing, growing and they actually cut off the blood supply to the fibroid so eventually it dies."
Now Bailey is feeling a lot better.
"I'm feeling great," she said.
"It's been probably about three-and-a-half to four months now and I started feeling better like two weeks after I had surgery. It was the best thing that ever happened to me."
And because of everything that Bailey has been through, she decided to share her story on RHOA to bring awareness to the issues associated with Fibroids.
"I decided to take a stand and talk about it," she said. "I'm kind of like 'Fibroid girl' now."